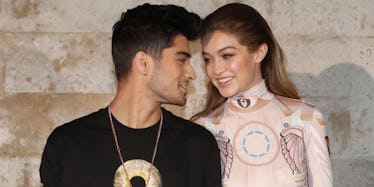 Zayn Malik Says His Sex Life With Gigi Hadid Is 'Fifty Shades Of Grey' Style
REX/ Shutterstock
Based on their good looks and beautifully sculpted bods, it's easy to assume Zayn Malik and Gigi Hadid's sex life isn't boring.
Heck, after Zayn released the music video for his hit song "PILLOWTALK," which features him and Hadid hooking up the entire time, not much was left to the imagination.
But thanks to Zayn, we don't have to imagine anymore (no, calm down, he didn't release a porno).
According to US Weekly, Zayn inadvertently joked their love life is like "Fifty Shades of Grey" during a radio interview with "The Morning Mashup" on SiriusXM.
Well... we definitely aren't too surprised.
During the radio show, the 23-year-old talked about working with Taylor Swift on the song "I Don't Wanna Live Forever," which both musicians worked on for the new "Fifty Shades" movie.
Then, one of the hosts dropped the big question and asked if Zayn had ever even seen the first movie or read the books.
Before he had a chance to answer, another host interrupts and says "He's lived the movie."
Needless to say, Zayn definitely didn't argue with 'em.
Instead, he seems taken aback by the comment and starts hysterically laughing along with everyone else in the room.
Seriously... they're cracking up, and I can't tell if Zayn looks guilty, embarrassed or proud AF (probably all of the above).
The only words he responded with were "I like that."
OK, it must be true then.
Zayn basically confirmed on live radio his love life with Gigi is kinky as hell.
I don't think his model girlfriend minded, though, because she's been spotted quite a few times in public swooning over her famous bae.
It's even been reported Gigi had a little something to do with Zayn and Taylor's song collaboration, which supports the fact she's head over heels for him and will show endless support no matter what.