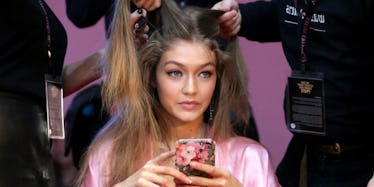 Gigi Hadid Prepped For The VS Fashion Show By Staring At A Pic Of Zayn's Face
REX/Shutterstock
There's nothing like staring into the eyes of your significant other during life's trying moments... even if it's on an iPhone wallpaper.
Gigi Hadid has been absolutely slaying it at the Victoria's Secret Fashion Week, despite the fact she suffered an extremely minor wardrobe malfunction and her mom posted an extremely embarrassing photo of her and Bella Hadid naked as kids.
But if there's one coping mechanism to get her through all the little stresses in Paris, it's Zayn Malik's pixelated face staring back at her on her iPhone.
Did you see it? Well, did you?
Rubbing your eyes in disbelief? Doubting that the black-and-white wallpaper even features Gigi's true love Zayn because it's 2016 and in 2016, there's no such thing as true love?
Gigi Hadid Caught Gazing Adoringly at Zayn Malik Screensaver on Phone at Victorias Secret's Show#MTVStarsZayn pic.twitter.com/2GZ9esfdtD — cabeyo ; mendes (@xpaynetrain1Dx) December 1, 2016
BAM! Well, there you have it, ye of little faith.
That's clearly a picture of Zayn that Gigi keeps around because it's in black-and-white and it's kind of like if Zayn was away fighting the Civil War and this picture is essentially her locket she always wears.
War, truly, is hell.
"My dearest Gigi, I write you under the direst of circumstances: I'm stuck in traffic. Keep me in your thoughts and prayers, but if perchance I do not persevere through the night, tell my ma I loved her," is an example of a text Zayn might (definitely not) write to Gigi.
But I digress...
It's obvious that the couple who have each other on their iPhone's wallpaper stays together. I mean, how could you even think of dating anyone else if your girlfriend or boyfriend was staring you down without blinking ever?
I mean, how could you even think of dating anyone if Gigi Hadid was your girlfriend?
Look, Gigi. If things don't work out between you and Zayn, you can have a picture of me as your wallpaper on your iPhone.
Citations: Gigi Hadid Caught Gazing Adoringly At Zayn Malik Screensaver On Phone At VS Show (Hollywood Life)