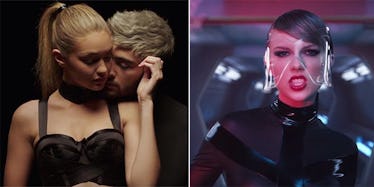 Zayn Malik Reveals How Gigi Hadid Feels About His New Song With Taylor Swift
YouTube
Ever wonder how those star-studded song collaborations actually come about?
These days, there's a growing trend in musicians releasing new music with other big-name artists without prior notice.
The most recent track to cause a shake up in the music industry is Zayn Malik's latest song with Taylor Swift.
Both Malik and Swift collaborated on a sexy song titled "I Don't Wanna Live Forever," produced by Jack Antonoff.
The song was released last Friday without warning and fans went absolutely insane.
So, this leaves us to wonder... How exactly did this collaboration even come about in the first place?
Luckily for us, 23-year-old Zayn Malik appeared on "The Elvis Duran Show" on Tuesday to reveal what led to the surprise record's release.
Malik revealed,
We were kind of in separate places when I mentioned the idea to her. I spoke to her on the phone, and she heard the song because [producer Jack Antonoff] had played it to her. So she really liked it, and she went in the studio the next day.
Well, it sounds like T-Swift was pretty easy to convince! To top it all off, the catchy pop track is a part of the forthcoming "Fifty Shades Darker" soundtrack.
Zayn Malik went on to reveal his gorgeous girlfriend Gigi Hadid had a little something to do with making the song happen, too.
The interesting thing was that [Taylor] is actually friends with Gi. So she already reached out because Jack had just played her the song anyway, just because we'd done it together and she really liked it and she'd mentioned to me that she liked the song. So I already kind of knew in the back of my head... I asked if she wanted to be on it and she was cool with it.
There you have it, folks. When you're Zayn Malik, things just kind of happen for you. And just in case there's any chance things might not go your way, your supermodel girlfriend will be there to save the day and support you.
I'm not jealous, you're jealous.
Citations: Zayn Malik Reveals How That Taylor Swift Collaboration Happened (Yes, Gigi Was Involved) (Seventeen)