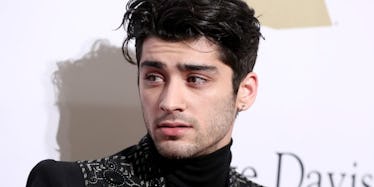 The Oscars Trend Continues: Zayn Malik Accidentally Given An iHeartRadio Award
REX/Shutterstock
It's a classic case of déjà vu.
Remember that massive flub at the Oscars during the award presentation for Best Picture last month? How could we ever forget the look on the "La La Land" cast members' faces caused by #EnvelopeGate?!
Congratulations to "Moonlight," but that was rough. No one should ever have to go through that...
That's probably why Zayn Malik's loyal fan base, nicknamed "Zquad," was probably bummed out after the singer accepted an award he didn't even win at the iHeartRadio Awards.
Luckily for Zayn, he wasn't at the show in Los Angeles. Things might've turned out worse for him if he were in attendance. Instead, Zayn was with girlfriend Gigi Hadid in Paris for Fashion Week.
Zayn shared a pre-recorded message with all of his fans and supporters while accepting the award for Best Video for "Pillowtalk." There's only one little problem -- Zayn Malik didn't actually win the award.
The fan-voted award was actually won by Fifth Harmony and Ty Dolla $ign for their song "Work From Home."  Yikes, that's gotta sting for Zayn. I mean, the dude sent out a pre-recorded video and everything.
On March 7, iHeartRadio issued a statement regarding the Oscars-like mix-up over Zayn Malik accepting the award for Best Video.
The real winner for Best Video was Fifth Harmony. Sorry, Zquad.
Not to worry, fans! It looks like iHeartRadio just created a "Best Solo Breakout Artist" category for Zayn Malik to win.
Singer Olivia O'Brien was included in the new category. The nomination was total news to her.
She isn't looking to stir up any drama, though. She's just happy to be nominated alongside other respected names.
The issue with Zayn winning the award for Best Solo Breakout Artist instead of Best Video is quite simple. The Solo Breakout Artist category features nominees who posed no threat to Zayn's chances of winning.
Malik's former bandmates Louis Tomlinson and Niall Horan were both nominated for the same award, but neither of them released any solo material aside from one solo record each.
And of course, Camilla Cabello and Olivia O'Brein were no match for Zayn's rise to solo stardom this time around. Regardless, Zayn came out a winner at the iHeartRadio Awards and his Zquad should still be proud!
Plus, Zayn himself doesn't seem to be hung up on the mistake at all.
Citations: Zayn accepted an award he didn't win, so iHeartRadio made up a new category for him (Mashable)