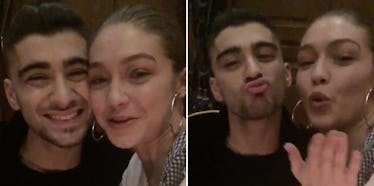 Zayn Malik And Gigi Hadid Show Cutest PDA In Video Accepting iHeartRadio Award
Twitter
Zayn Malik and Gigi Hadid will just not let up on this whole "being adorable" thing they have going on.
I mean, it's starting to get a little ridiculous, frankly.
Take this video of Zayn accepting his award at the 2017 iHeartRadio Music Awards, for instance.
Zayn couldn't be in Inglewood, California for the awards due to a previous engagement in Paris, but fans voted for "Pillowtalk" as Best Music Video of the Year anyway.
So Zayn took to Twitter to thank his fans for the award instead in a video — with a very special appearance by the love of his life.
In a video he shared on Twitter, Zayn says,
To everyone at iHeart, I'm currently in Paris—sorry I can't be there. A little birdie told me that I've actually won an award, so thank you very much. I'm very honored. To everyone that voted, thank you very much, it means a lot.
All pretty standard stuff so far. But that's when things suddenly take a turn for the adorable.
Zayn says,
My costar's actually sat right next to me, so she's gonna say hello as well.
Then Gigi comes into the frame, and it's infuriatingly cute.
First, Gigi strokes Zayn's face while still out of frame. STROKES HIS FACE.
Then she presses her face against her boyfriend's face, and damned if he doesn't light up like a freakin' firefly.
Look how happy he is! It's disgustingly precious!
They both blow kisses into the camera, so that means I'm a part of this relationship now, right? RIGHT?
So... are y'all getting married or what?
We keep hearing all these rumors that Zayn and Gigi got secretly engaged.
And it doesn't help that Gigi has been walking around with a ring on THAT finger, if you know what I mean. (I mean her ring finger. Don't be gross.)
Ugh, just get married already!
Citations: Zayn Malik's iHeartRadio Music Awards Acceptance Speech Isn't Complete Without a Kiss From Gigi Hadid (E! Online)