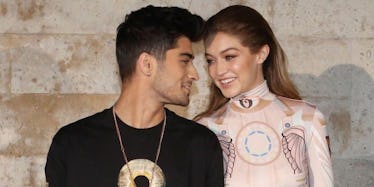 Gigi Hadid Reveals Zayn Malik Is The Love Of Her Life In Cute Instagram Story
REX/Shutterstock
Gigi Hadid and Zayn Malik might just be the most adorable couple in Hollywood.
They've certainly already secured the title of most good-looking couple in Hollywood. That's not a question.
Just look at that complementing bone structure. It's actually insane how beautiful they are, both separately and together.
But I'm about to declare them both good-looking AND adorable if they keep doing adorable things, like calling each other the loves of their lives.
Which is exactly what Gigi did on Tuesday via her Instagram story.
The 21-year-old fashion model posted a photo of her maybe-fiancé making a silly face while wearing Mickey Mouse gloves, capturing a sweet moment from their vacation with Bella Hadid to Disneyland Paris theme park.
Gigi's added text to the photo officially declares Zayn the love of her life. (She literally captioned it "LOVE OF MY LIFE.")
Phew. I don't know about you guys, but that sounds like a marriage-level declaration to me. I mean, "love of my life" seems to imply you'll be loving that one person your whole life, right?
This is all just more fuel to the fire for those rumors that Gigi and Zayn secretly got engaged.
Last month, Gigi was seen walking around Manhattan with something that looked suspiciously like an engagement ring on THAT finger.
Then, only a day after the ring spotting, fans discovered Zayn had gotten a new tattoo on his hand that says "LOVE."
Tattoo? Again, I'm really getting some "commitment for life" vibes from these two.
Then, last week, Gigi was seeing wearing a ring on that finger — AGAIN — at Milan Fashion week.
But all of this is super confusing. seeing as there were ALSO rumors that Gigi turned Zayn's proposal down in December because she didn't want to get married so young.
In the immortal words of Oprah, WHAT IS THE TRUTH?
Gigi, I get not wanting to marry at 21. But also, based on what I've seen on social (which as everyone knows is the one true indicator of how a relationship is going), it's seems like you've got the real deal.
Just marry Zayn already!