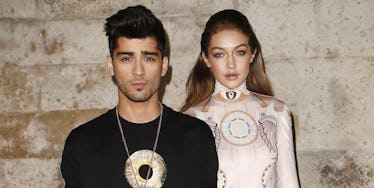 Zayn Malik Gets 'Love' Tattoo On Hand Amid Gigi Hadid Engagement Rumors
REX/Shutterstock
Zayn Malik just got a new tattoo and it's 100 percent about his soon-to-be wife, Gigi Hadid.
The former One Direction singer was spotted leaving his girlfriend's apartment in New York with some fresh ink on his right hand.
OH, do you need a closer look? Well then... here ya go.
Yes, that tattoo does say "love." Yes, it is DEFINITELY ABOUT GIGI HADID. STFU DON'T @ ME.
The other day, the 21-year-old model stepped out sporting some new bling on her ring finger.
It obviously fueled engagement rumors because like... THAT'S DEFINITELY AN ENGAGEMENT RING, NOBODY TELL ME OTHERWISE.
YOU DON'T JUST WEAR RINGS ON YOUR RING FINGER FOR FUN. THEY. ARE. ENGAGED!!!!!
Anyway, people on Twitter actually think Zayn's new tattoo is a permanent tribute to Gigi because "love" is apparently in her handwriting.
Yup, fans on social media really think Zayn's new tat was designed by his girl.
WE HAVE THE PROOF!!! I mean, THEY HAVE THE PROOF!
I'd honestly be happy if Gigi Hadid and Zayn Malik were engaged -- even though they're both like 13 years old.
They're a pretty adorable couple and if they got married, we'd know their love is REALLLLLLLLLL.
I can hear the bells, you guys! Let's make this happen!
Speaking of "forever," Zayn Malik recently dropped his new song "I Don't Wanna Live Forever" featuring Taylor Swift.
Not gonna lie, it's pretty damn catchy. I like to put it on when I get dressed in the morning and dance butt-nakey in front of the window.
Hehe! Sorry for ruining your day, neighbors.
The song is part of the "Fifty Shades Darker" soundtrack, so you'll be able to hear Zayn's angelic voice on the big screen in March.
Anyway, congrats on the new tat, Zayn. Can't wait to watch you and Gigi grow old together and have 3949393 babies.
Can I be a godmother?
Citations: Zayn Malik New Tattoo (Daily Mail)