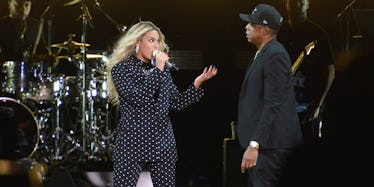 Here's Why Beyoncé And JAY-Z Actually Love The Number 4, In Case You Were Wondering
Getty Images
Beyoncé and JAY-Z, our rulers of the universe, are really into symbolism. They love to be that extra couple that makes huge deals out of everything that happens to them (in case you couldn't tell by the pregnancy and birth announcements they created for their twins), and they love to go all in with their plans. But Beyoncé and JAY-Z's connection to the number four is definitely their favorite thing of all.
The most recent example of Beyoncé and JAY-Z's love for the number four is JAY-Z's newest album, 4:44. When ads for the album first started popping up, they were very cryptic and vague, leading fans to create their own theories about what the title 4:44 could mean. Now, we of course know that 4:44 is both the title of JAY-Z's newest album as well as the title of his favorite song on the record. In an interview with iHeart Radio after the album's release, JAY-Z said,
'4:44' is a song that I wrote, and it's the crux of the album, just right in the middle of the album. And I woke up, literally, at 4:44 in the morning, 4:44 a.m., to write this song. So, it became the title of the album and everything. It's the title track because it's such a powerful song, and I just believe one of the best songs I've ever written.
"4:44" is the song that confirms JAY-Z cheated on Beyoncé, which means everything Bey talked about in Lemonade was true. (Not that we ever doubted her, but it's nice to have more receipts.) It talks of infidelity and how it took the birth of their daughter, Blue Ivy Carter, for him to realize how valuable his marriage was. (Beyoncé, sweetie, I am SO sorry you went through that without us. I wasn't there for you in your time of need!! I will never forgive myself!!)
But beyond JAY-Z's 4:44, what evidence do we have that explains why Beyoncé and JAY-Z love the number four so much? Here's everything you need to know:
Beyoncé and JAY-Z were each born on the fourth day of their respective months.
Beyoncé was born on Sept. 4, 1981. JAY-Z was born on Dec. 4, 1969. If you and your partner (or even you and a good friend) found out you had similar birthdays — and if you were into symbolism like JAY-Z and Beyoncé — you would probably take this as some kind of sign that you were meant to be together.
For Jay and Bey, this was probably the beginning of their obsession with the number four. They've reflected the number in just about every area of their lives ever since they got together in the early 2000s.
Beyoncé and JAY-Z got married on April 4, 2008, aka 4/4/08.
And what's 4+4? 8. April 4, 2008. 4/4/08. Thank you. Beyoncé and JAY-Z probably waited so long to get married so they could do it on this exact date. That's commitment, people.
Beyoncé and JAY-Z got the number four tattooed on their ring fingers to go with their wedding rings.
If you've looked closely at Bey and Jay's hands over the years, you will have noticed they each have a Roman numeral four tattooed on the ring fingers of their left hands. Yup, that's a permanent wedding ring featuring their favorite number. Beyoncé added a video clip of the moment they got the tattoos in the video she made for "Die With You," a song she wrote for JAY-Z. She posted the video on her Instagram on their nine-year anniversary, which was April 4, 2017. The full version of the video is on TIDAL.
Beyoncé's fourth studio album is titled 4.
Bey loves the number four so much, she named her fourth album just that. 4 has some of Beyoncé's greatest hits, like "Run The World (Girls)," "Love On Top," "Best Thing I Never Had," and "Countdown." And now, we have two Carter family albums dedicated to the number four.
I would like to point out this meticulous attention to detail on Bey and Jay's end: Beyoncé's fourth studio album is called 4, and JAY-Z's 13th studio album is called 4:44. Between 4 and 4:44, how many fours do we have? THANK YOU. (Also, 1+3=4. I see what you did there with that 13th album, JAY-Z. More on this later.)
Blue Ivy Carter has a secret four hidden in her name.
Ever wonder where Beyoncé and JAY-Z got the name Ivy for Blue's middle name? Look no further than their favorite number. Yup, in case you missed it, Ivy starts with "IV," aka the same Roman numeral four Bey and Jay have tattooed on their fingers representing — you guessed it — the number four. "Blue" also has four letters in it, so that's consistent. I know. Your mind is blown. But I also don't know how anyone has missed this by now.
Beyoncé's fifth studio album, Beyoncé, was released Dec. 13, 2013.
Remember how JAY-Z's 13th album was four-related because 1+3=4? Well, Beyoncé basically did the same thing when she dropped her surprise fifth album, Beyoncé, on Dec. 13, 2013. Like we said before, 1+3=4, people! Pay attention! They're trying to tell us something!!
Beyoncé and JAY-Z went on a vegan cleanse for 22 days in 2013, and 2+2=4.
I know this one seems like a stretch on my end, but even JAY-Z addressed the whole 22 thing when they first announced their vegan diet back in 2013. Jay decided he wanted to take on the challenge of going temporarily vegan starting the day before his 44th birthday in 2013 (He turned 44 in 2013... do I need to do the math about the number 13 again, or are we good now?). In a post about the vegan challenge JAY-Z wrote for Life + Times, he said,
On December 3rd, one day before my 44th birthday I will embark on a 22 Days challenge to go completely vegan, or as I prefer to call it, plant-based!! This all began a few months back when a good friend and vegan challenged me to embrace a 'plant-based breakfast' every day. It was surprisingly easier on me than I thought… Why now? There's something spiritual to me about it being my 44th birthday and the serendipity behind the number of days in this challenge; 22 (2+2=4) coupled with the fact that the challenge ends on Christmas day… It just feels right!
Bey joined him on this challenge, making it a Carter family affair.
At this point, I really don't think I need to explain this, but in case you still can't tell, there's a four in the number 14.
And according to reports, Rumi and Sir Carter were born in the early morning of June 13, 2017. 13!!! Rumi was reportedly born at 5:13 a.m., and Sir followed less than a minute after. ANOTHER 13.
It's also vital for you to know that July 14 is my birthday, so this picture of Sir and Rumi Carter was Beyoncé's gift to me as a thank you for being so loyal. Wow, I can't believe Beyoncé and JAY-Z invented my birthday, as well as the numbers four and 13. They didn't exist until now!