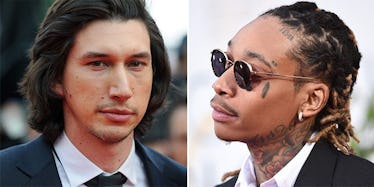 24 Ugly Hot Celebs We Can't Explain Our Attraction To
REX/Shutterstock
Being ugly hot is a "gift" only men seemingly possess.
After all they're the ones who got praised for having "dad bods," while women get called "plus size."
But regardless, beauty is really in the eye of the beholder -- at least that's what my friends tell me whenever I bring home another super ugly dude.
In my opinion, I just have unique taste. It's a taste I like to describe as the "ugly hot" phenomenon.
Sure, I'm aware sometimes the dudes I like are a little unconventional, but that's why I like them.
Why would I want some grade A model hottie every other girl has her eye on?
I'm more interested in a guy who's super nice and can have fun anywhere -- even if he is wearing a turtleneck under a basketball jersey.
Here are a few other celebs we often can't explain our attraction for, but there's no denying these dudes are hot.
Adam Driver
There's a lot of things I'll never understand about the full-on appeal of "Girls," but Adam Driver as a leading man isn't one of them.
Bella Hadid and Selena Gomez were onto something when they snatched up this 27-year-old Canadian rapper.
Pete Davidson
Pete Davidson is younger than me and more successful than me, therefore, he is hotter than me. That's how it works, right?
Shoutout to 23-year-old Pete Davidson for being one of the youngest cast members ever to appear on "SNL."
Jake Johnson
Just like the show he appears on, "New Girl," Jake Johnson definitely got better with age. His witty one-liners alongside Zoe Deschanel definitely make him stand out as a totally lovable hottie, despite looking like.... a lot of men already existing on the planet.
Wiz Khalifa
Amber Rose and I have so much in common: one of the many things is our love for tall skinny rappers.
Wiz Khalifa and MGK (who's too plain hot IMO to make this list) definitely prove Ms. Rose has a type.
Jake Lacy
Ugh, this guy literally would fall for Hannah and date her despite there being no real chemistry or attraction.
His character on "Girls" was a snoozefest at best, but.... OK, he's still weirdly hot.
Jimmy Kimmel is a true American gem who never fails to remind us how dumb the rest of America is, when he asks them things like, "What do you think of Rob Kardashian as the new member of the Supreme Court?"
Nathan Williams
This is for all my punk princesses out there.
How ugly hot is Nathan from Wavves?
It's even more hot that he's a one-woman type of guy, dating Best Coast's Bethany Cosentino for years. The couple has provided enough love to make enough sun-kissed Cali surf rock jams to last a lifetime.
Shia Labeouf
Shia Lebouf was literally the nerdiest, weirdest child actor on "Even Stevens" (shoutout to the true hottie, Twitty), but I have one word that makes this guy ugly hot: activism.
Jay Z
I mean, there's gotta be something about this guy that makes him worthy of Beyonce's affection. I'm going to guess his multi-million dollar empire has something to do with it.
Christopher Meloni
LOL, this pic really doesn't do him justice.
But how ugly hot is any man who solves fake crimes for our entertainment? If he wasn't such a skilled detective, I'd say Chris Meloni looks like the type of guy who'd make the house call to install your cable after hours of being annoyed that he didn't make it during the pre-decided "window" of time. You know, in a hot way.
John Goodman
Is it just me, or is it really impossible to get through an episode of "Roseanne" without thinking Dan is the hottest dad ever?
Hmm, OK, so it's just me.
Ugh, Nick Viall. Just no.
He's an average guy, ladies!!! This dude was born to be a reality TV star.
Tom Hiddleston
Anyone who's freakishly obsessed with Taylor Swift is probably the definition of ugly hot. In this case, Tom Hiddleston did not disappoint.
King Krule
Remember all the badass chicks who knew who Nathan Williams was? King Krule is along those lines.
What can I say? Any guy with a guitar AND A BRAIN is hot in my book. Even if he's also ugly.
Benedict Cumberbatch
Um I literally don't watch movies or get the appeal of this man at all but when I hear the words "ugly hot," and look at Benedict Cumberbatch's face, I think to myself, "yeah, OK."
Billie Joe Armstrong
BJA!!!!
Be still my beating 15-year-old heart. This was a time when I was convinced both my husband and I would be wearing eyeliner on our wedding day.
Billie Joe is proof that you can be under 5' 7" and still be hot. So let's end short guy shaming.
Wes Anderson
Wes Anderson definitely has a hot name and is hot enough to be considered ugly hot.
I think Drake is just hot because I base all my opinions off of Rihanna's opinions, but hey, she dodged his kiss at the VMA's, so maybe he was just too "ugly hot" for her.
James Jagger
James Jagger's dad, Mick Jagger, is the EPITOME of ugly hot. It's only natural his son would carry on the legacy.
Jesse Eisenberg
Jesse Eisenberg's ugly hotness came to life when he was coding the sh*t out of Facebook on "The Social Network."
Steve Buscemi
I mean, I could totally see the plausibility of Buscemi getting laid in "Ghost World." Something about a man with extremely specific interests is always hot.
Jesse Plemons
Ugh TBT Landry and Tyra. Now it's all about Landry and Kirsten Dunst because the "Fargo" stars are engaged.
Joaquin Phoenix
We can't have this list without Joaquin Phoenix. He is so ugly hot, he was almost just hot in "Walk the Line."
In "Her," not so much.