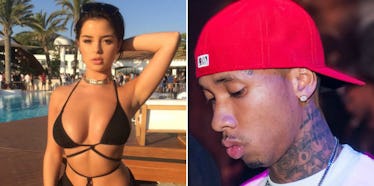 Tyga's Ex Demi Rose Stripped Naked For A Sexual Photo Shoot
Instagram/REX/Shutterstock
Tyga, Tyga, Tyga!
First, you let the internet start rumors about your girl Kylie Jenner cheating on you with rapper 21 Savage.
Then, you let 21 Savage tell TMZ he would "tear that ass up" in reference to the rumors about him dating Kylie Jenner.
Now, to top it all off, Tyga, your ex-girlfriend Demi Rose just stripped naked for a sexy photo shoot with Sixty6 magazine, and DAMNNNNNN, the photos are legit too hot to handle.
Demi Rose Mawby is absolutely gorgeous, and to say she lets loose in this latest photo shoot with Sixty6 magazine would be the understatement of the year.
Like, are y'all ready for these sexy AF photos, because I know I'm still struggling to come to grips with how hot they are.
In any event, I give you the "queen" of England...
Oh, damn.
Don't worry, kids, there's plenty more where that came from...
No disrespect to Kylie Jenner, but what were you thinking, Tyga?
Sixty6 mag's photo shoot with Demi Rose might be the hottest photo shoot in the history of cameras. No bullshit.
It's a good thing we have Rose's photo shoot to keep us warm this winter, amiright?
It's a balmy 35 degrees in my office right now, but it's hot as hell at my desk.
That's it, guys, I think I have to leave work early.
I don't feel comfortable being in front of co-workers anymore. Demi Rose, you're a goddess. Tyga, you're an idiot.
It just keeps getting better and better. Seriously, though, props to Rose for doing her thing in front of the camera.
I don't think there's any doubt Tyga is probably the more popular of the two, but the 21-year-old British model just showed she plays second fiddle to no one.
Tyga, do you regret the fact you're no longer romantically involved with Demi Rose?
Why you lying?
Citations: Tyga's Ex Demi Rose Mawby Got Completely Naked For Photoshoot And Holy Shit Snacks Did He Make A Mistake! (Bro Bible)