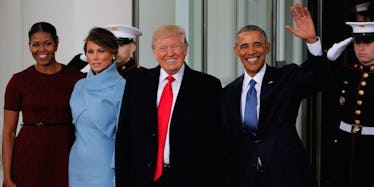 Trump Inauguration Performers Compared To Obama's Will Make You Want 2008 Back
REUTERS
Well, today is the day.
At about 12 pm, former reality television show star and international business man Donald J. Trump was sworn in as the 45th president of the United States of America.
And though it took him some time, he finally found some "yuge celebrities" to perform for him at his inauguration, like Jackie Evancho and YouTube group The Piano Guys – who hilariously performed a song titled "It's Gonna Be Okay."
The weekend-long event kicked off Thursday night with his Make America Great Again concert, starring none other than America's favorite band, 3 Doors Down!
Oh... that's not America's favorite band? That would explain the lack of attendance.
Other performers for the weekend include Toby Keith, the Mormon Tabernacle Choir and the Missouri State Chorale.
The pictures circulating of the "monochromatic" crowd and dismal attendance are a sobering reminder that this is really happening.
We really elected a person hated by so many that he couldn't even find an act worthy of a presidential inauguration.
MTV's "My Super Sweet 16" had better performers than he was able to get.
This is not to say the people he did get to perform will be bad, but there is a precedent.
Inaugurations are supposed to be celebrations that put all others to shame.
In case you'd forgotten what a presidential inauguration is supposed to be like, here are a few of the people who performed for Barack Obama back in 2009.
John Legend, James Taylor and Jennifer Nettles
Stevie Wonder
Bono
Beyoncé
Also, please just look at the amount of celebrities behind her.
Will.i.am and Sheryl Crow
Mary J. Blige
And if that isn't enough to convince you we're not just "crying liberal tears" like right-winged trolls like to say, it is estimated there will be more people marching at the Women's March on Washington on the Saturday after the inauguration than there will be celebrating the actual election.
The march boasts performers like Janelle Monáe and Maxwell, with the likes of Angela Davis, Katy Perry, Gloria Steinem and Scarlett Johansson as speakers.
Support for the event has come from all corners of Hollywood, and unlike events for the 45th president of the United States, it promises to be diverse and all-inclusive.