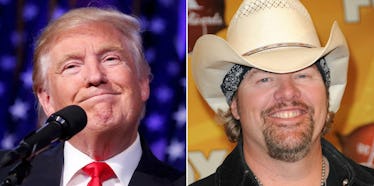 Toby Keith Speaks Out On Decision To Perform At Trump's Inauguration
REUTERS/ REX/Shutterstock
If there's one thing a majority of the music industry could agree on, it was the fact most artists wanted nothing to do with performing at Donald Trump's presidential inauguration (shocker).
In fact, a ton of celebrities used social media to decline their invitations to perform, laughing at the thought of providing their musical talents for the event.
However, there are a few bands and musicians who did agree to perform, regardless of their political stances.
Toby Keith is one of them, and he's being criticized for his decision to do so, People reports.
Apparently, the singer defended his decision to perform at the inauguration in a statement to Entertainment Weekly.
While noting his former patriotic performances, the 55-year-old country star said,
I don't apologize for performing for our country or military. I performed at events for previous presidents [George W.] Bush and [Barack] Obama and over 200 shows in Iraq and Afghanistan for the USO.
OK, fair enough. You're taking one for the team, man.
Keith's been chosen to perform at the Lincoln Memorial on January 19 as part of the "Make America Great Again! Welcome Celebration."
Other performers include 3 Doors Down (remember "Kryptonite"?), Lee Greenwood, The Piano Guys and Frontmen of Country.
Until recently, broadway actress Jennifer Holliday was on the lineup to perform, too, which deeply disappointed her dedicated fans in the LGBTQ+ community.
However, her fans can now rejoice because Holliday has officially decided to pull out from the event.
Sorry, Trump.
The "Dreamgirls" actress wrote an open letter on The Wrap to publicly cancel her performance.
Her letter is addressed to her "beloved LGBT community" and points out the fact she accepted the invitation to perform under "lapse of judgement."
After making it clear she does not support Donald Trump and Mike Pence, she penned,
Please know that I HEAR YOU and I feel your pain. The LGBT Community was mostly responsible for birthing my career and I am deeply indebted to you… You have loved me faithfully and unconditionally and for so many years you provided me with work even though my star had long since faded.
Although Holliday listened to her fans' responses regarding her decision to perform, Toby Keith isn't budging.
It looks like he's made up his mind, and it doesn't look like he's going to change it.
Citations: 'I Won't Apologize': Toby Keith Defends His Decision to Perform at Donald Trump's Inauguration (People)