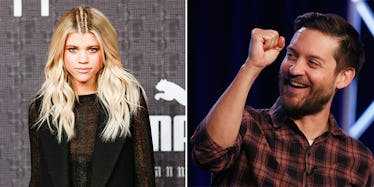 Creepy Old Dad Tobey Maguire Partied With Justin Bieber's 18-Year-Old Ex
REX/Shutterstock/REUTERS
Well, it looks like Tobey Maguire is recovering nicely from his divorce.
Earlier this week, the former "Spider-Man" star and jewelry designer Jennifer Meyer announced they had split after nine years of marriage. The couple, who has two kids, announced the divorce in a joint statement to PEOPLE, saying,
After much soul searching and consideration we have made the decision to separate as a couple. As devoted parents, our first priority remains raising our children together with enduring love, respect and friendship.
Though the ink has barely dried on the divorce documents, it appears as if Tobey has potentially found a new gal in his life -- a barely legal gal who appears to have moved on from a recent romance with Justin Bieber that sort of led to him deleting his Instagram.
I'm talking about Sofia Richie.
Maguire, who is 41, was spotted getting close with the 18-year-old at 1 OAK in Hollywood earlier this month.
Oh. Cooooooooool. This is normal and def not like when your uncle gets wayyyy too friendly with the waitress when your family goes out to eat at Applebee's.
Ew.
This is how weird this relationship is:
Sofia Richie is sooo young that if the age discrepancy between the two of them gained sentience and formed into a person, that person would be a little too old for Sofia.
According to Sofia, Tobey isn't robbing the cradle, though.
She's made it a point to consistently deny anything was going on between the two of them, and if you don't believe her, you can go ask Paris Hilton, apparently.
When asked about dating rumors, Sofia responded,
Are you fucking joking?
Later on, Paris casually told reporters they needed a new set of questions to ask, saying,
Literally, stop asking her that because it is a bullshit rumor.
Sofia was also joined by her personal lookalike/Bieber-based eskimo sister Bronte Blampied.
Sooooooo, what's going on, Tobey?
Citations: Newly Single Tobey Maguire 41 Spotted With Sofia Richie 18 (New York mag)