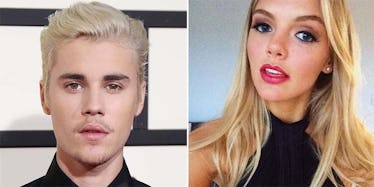 Meet Bronte Blampied, Justin Bieber's Latest Hookup
*Town herald runs to highest watchtower in the town and rings the tower bell. He yells out to the village below.*
JUSTIN BIEBER AND SOFIA RICHIE ARE DEAD! JUSTIN BIEBER AND SOFIA RICHIE ARE DEAD! LONG LIVE JUSTIN BIEBER AND BRONTE BLAMPIED! *whispers* Her name is Bronte Blampied? Really? OK. That's a terrible name. LONG LIVE JUSTIN BIEBER AND BRONTE BLAMPIED!
It seems like just yesterday we were getting to know Sofia Richie, the barely legal model Justin Bieber was using to fill the Selena Gomez-shaped hole in his heart. She was young, gorgeous and, most of all, clearly had Justin smitten.
That was yesterday, though. New day, new woman. Justin Bieber's girlfriends last about as long as circus goldfish. Guys, it's already Wednesday, WE CAN ALL FORGET ABOUT SOFIA RICHIE (just in this context, though, I'm sure she's a nice lady in real life.).
Everyone get to know Justin's new lady, Bronte Blampied.*
*But, like, you don't need to get to know her toooooo well, ifyaknowwhatImean. Like, I don't think this one is sticking around that long...
Justin and Bronte, who I can only assume moonlights as a demon from Viking mythology, have been spotted canoodling a bunch lately, leading many to speculate something slightly more than platonic -- but definitely not more than occasionally engaging in consensual boinking -- is going on.
Reportedly, the two were spotted hanging at a nightclub in London on Friday at V Fest.
A source who was there told PEOPLE,
They were just very friendly together. It was just the two of them at first in the VIP area, but then it became a crowd of around 30 all dancing together. Justin interacted with lots of other people when she was there. He was in a great mood.
Another source says even if they were going out, it likely will lead to nowhere, saying,
It's virtually impossible where he's at in his life and career for anything to last with these girls. He's not settling down.
Here is the weird part, Bronte *hocks a wicked loogie* looks oddly similar to Sofia.
Bronte.
Sofia.
Bronte.
Sofia.
Bronte.
Sofia.
Fun fact: I switched the last two pictures and you probably didn't even know because JUSTIN IS DATING THE SAME EFFING PERSON.
So if you're wondering, we now know Justin Bieber has a type: Model.
He goes through models the same way I go through entire sleeves of Oreos.
Citations: Justin Bieber Spends Time with Model Bronte Blampied in the UK After Sofia Richie Fling (People)