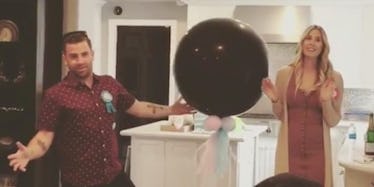 This 'Hills' Star Had A Gender Reveal Party And The Video Is Adorable
Instagram
Man, there's nothing like the feeling of discovering the sex of your unborn child, which may or may not align with their gender identity later in life, you know?
Jason Wahler of "The Hills" fame knows what I'm talking about.
This weekend, the former beau of Lauren Conrad revealed his first child with his wife Ashley is going to be born a little girl.
The couple announced the news to friends, family and Instagram followers via a "gender reveal party," which apparently is this thing where parents announce to the world their child's assigned gender in a whimsical manner.
The whimsy with which Jason and Ashley made their "reveal" was a giant black balloon filled with smaller, colorful balloons — either blue or pink.
(Because, as everyone knows, colors have gender.)
Anyway, they popped the big balloon, revealing the balloons inside to be pink, indicating either that their child will be born a giant, scary, floating black orb, or a girl.
(It's just so hard to keep up with societal norms, I'm sorry!)
Look, I'm making a lot of jokes, but the video is actually really cute.
Just look at both Jason and Ashley's faces of pure happiness in the second half of that video.
Even though they found out they were having a baby several weeks ago, their joy is still palpable.
Like even I, someone with the soul of a grumpy 95-year-old, can admit this is adorable.
And as long as Jason and Ashley are planning to respect whatever gender their child so chooses to identify with, there's no real harm in throwing around some pink balloons.
Jason marks the third star from "The Hills" to announce a pregnancy this year.
Then Jason swooped in just a week later to show off his new baby ultrasound.
This is starting to feel like something of a baby competition, here.
How much you want to bet Lauren reveals the sex of her baby by the end of the month?