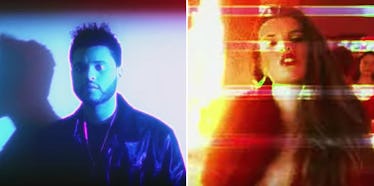 The Weeknd's 'Party Monster' Music Video Features A Selena Gomez Lookalike
YouTube
The Weeknd dropped his "Party Monster" music video today and the world is freaking out.
The 26-year-old singer has been promoting his new track on Twitter and teased fans with a sick logo of his face poppin' out of a cross.
Cool right? Shout out to the art director for this one!
The video opens with The Weeknd sitting in a car, looking at himself in the mirror and adjusting his sunglasses.
The entire thing (which is over four minutes long) is filled with bright lights and lots of hot women.
Hot women who bear a striking resemblance to Selena Gomez! Like this girl!
HMMMMMMM. Do you think this maybe... was... intentional?
One of the ladies who stars in the music video is named Zoe Aggeliki Mantzakanis and she literally looks like Selena's twin.
You may be wondering why this is significant. Well, let me tell you.
The two were caught making out outside Giorgio Baldi in Santa Monica by a dumpster. How romantic.
On top of that, a source recently told E! News why Selena and The Weeknd decided to make their relationship public so soon.
The insider said,
At first, Selena and Abel wanted to keep their relationship a secret...But they've decided they really don't care if everyone knows about them.
The source added,
Selena was focusing on getting herself back together and Abel was just getting out of a relationship, plus putting out his new album. Abel and Bella also were on and off towards the end of their relationship, so getting into something brand new was not what Abel was looking for.
Cat's out of the bag, I guess!
They also thought maybe Selena Gomez would star in the music video.
But nope! It looks like they just hired her doppelgänger! Sorry everyone.
Either way, it clearly means Abelena is a real thing.
If you want to watch the music video and see the girl for yourself, then check out the full clip above.
Citations: Selena Gomez The Weeknd Relationship (E! News)