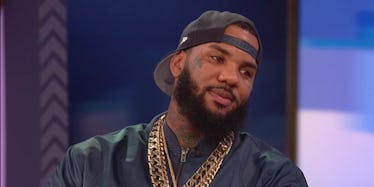 The Game Finally Revealed Which Kardashians He Actually Had Sex With
YouTube
The Game can't stop bragging about his game. At. All.
We reported earlier how The Game mentioned in some of the lyrics to his song "Sauce" that he had sex with not one, not two, but three Kardashians. The Game rapped,
I used to fuck bitches that Usher Raymond passed on / Then I fucked three Kardashians / Hold that thought.
No, The Game. I will not hold that thought until you bring up some evidence to support your claim that you did the dirty with a trio of the Kardashian clan.
Of course, the Kardashians have an interesting, medievally complicated romantic family tree, with Rob engaged with Blac Chyna, who has a son with Tyga, who is dating Kylie.
Then, Kylie was seen hanging out with French Montana who is Khloé Kardashian's ex. Seriously, this fam is a living, breathing soap opera.
So, yeah, the Kardashians have a history of dating within the same general pool of romantic interests. But three Kardashians? Literally a hat trick of Kardashians?
Needless to say, we were in disbelief.
We followed up with a report that The Game probably only had sex with one Kardashian: Kim. They dated, so yeah, the two of them getting it on isn't exactly news.
However, now The Game dished to Wendy Williams on her talk show and finally admitted which three members of the royal reality TV family he's kept up with (in the boudoir).
Although he denied hooking up Kourtney Kardashian (phew, I mean she was married for like forever), he didn't deny going to Bone Town, USA with Kim (Population: 2... AKA Kim and The Game -- what? It's a small town!).
However, he insisted that he didn't want to insult his buddy Kanye West.
Yeah, don't want to miss out on those free pair of Yeezys, The Game. Although next time I wouldn't publicly announce in the form of a rap that you previously had sex with his now wife.
The real twist is that The Game implied that one of the other Kardashians he's known biblically is Khloé. He told Wendy,
Sometimes it gets late at night, and you know, you just, people...
What the hell does that even mean? "You know, you just, people..." sounds like the worst late night booty text of all time.
The third Kardashian he mentioned isn't even a Kardashian... yet. The Game said that Blac Chyna is the last piece of this three Kardashian sex puzzle.
Well, maybe The Game will expand his dating pool beyond the Kardashians. I hear Angelina Jolie is single?
Citations: The Game Says He Slept With Three Kardashians On The Wendy Williams Show (Refinery29)