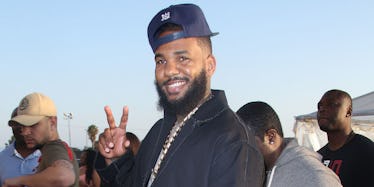 The Game Has Only Been With One Kardashian, Not Three Of Them
REX/Shutterstock
JK you guys, The Game only had sex with ONE Kardashian, not three.
In his new song "Sauce" feat. DJ Khaled, The Game dropped an interesting tidbit of information — that he's slept with not one, not two, but THREE of the Kardashian girls (or guys, it's 2016).
The lyric goes,
I used to fuck bitches that Usher Raymond passed on / Then I fucked three Kardashians / Hold that thought.
Whoa, three out of six, huh?
Well, according to sources close to the Kardashians, not quite.
TMZ reports according to a close source of Kylie, Kendall, Khloé, Kourtney and Kris, none have had sex with The Game.
Kim, of course, did date The Game back in the day, according to The Game anyhow. TMZ's source didn't deny Kim probably got it on with him.
Personally, even if this source is right, I still think The Game might be telling the truth. There's still Rob Jr. and Rob Sr., after all.
Look, The Game never specified pronouns! Like I said, it's 2016! Maybe The Games and the Robs had some kind of agreement at some point.
Hold that thought.
Citations: THE KARDASHIANS THE GAME'S ONLY 1 FOR 3 WITH US (TMZ)