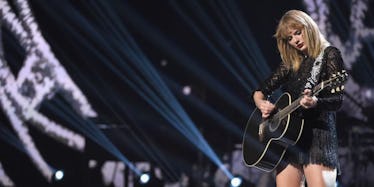 This Theory About Taylor Swift's Snake Video May Prove She's Performing At The VMAs
Kevin Winter/Getty Images
Taylor Swift fans, buckle up because the queen of song might be performing at the 2017 VMAs! Yes, get excited. The Twittersphere truly believes Swifty will be performing at the show because of a snake video the superstar posted to her Twitter account. You see, there's a snake in the VMAs promo video and Taylor Swift posted a snake video. Why else would she post a snake video, guys? So now everyone is wondering, is Taylor Swift performing at the VMAs? Or is she posting snake videos about Kim K?
It could possibly be about Kim Kardashian, considering Kim K called her out for being a snake... you know, after she exposed her on Snapchat and everything. Yeah, remember all the "Famous" drama between Kanye West and Taylor Swift? Kim K even tweeted about "National Snake Day" last year. Shady AF? You bet.
On Friday, Aug. 18, 2017, Taylor Swift completely blacked out all of her social media accounts. I'm talking, Instagram photos: gone. Twitter: blank. Facebook: empty. It was shocking for the internet and her diehard fans. What is Swifty up to? Some fans believe Swift is releasing new music, while others think it could be an entire video series. It's truly a mystery. Now, she's posting snake videos and riling up fans all over again. You're killing us over here, T. Swift!
Rumors have been parading around the internet that Swift won't only be performing at the 2017 VMAs, but she'll also be doing it with Katy Perry. Ahh. The drama is too good.  The two superstars have been feuding for years, and it could all end here. Remember when Swift released the song, "Bad Blood"? Then Katy Perry wrote, "Swish Swish"? That wasn't good... at all. On June 10, 2017, Entertainment Tonight reported that during a conversation with Arianna Huffington, Perry said,
I'm ready to let it go. Absolutely, 100 percent. I forgive her, and I'm sorry for anything I ever did, and I hope the same from her. And I think it's actually... I think it's time.
Hmm, this could explain why Taylor's snake video really shook fans.
Here's the VMA promo video.
Here's Swift's sneaky snake video.
What does it mean?
This really is too much.
Epic tweet. This was all of us.
#TS6IsComing
Bold statement. I like it.
1989 is the year of the snake. See what she did there?
Never call Taylor names. Ever.
This is a really big deal.
Kim K, watch out.
 Taylor, please let us know what's going on. We need new music, and we need to know what that damn snake means.