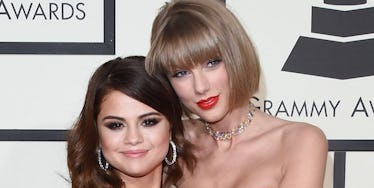 Taylor Swift Broke Her Instagram Silence To Support Selena Gomez And Fans Lost It
Jason Merritt/Getty Image
It's a big day for Selena Gomez, and it keeps getting bigger.
Her bestie Taylor Swift, who has been eerily quiet on Instagram, just reappeared to shower her old friend with support for Gomez's hit, "Fetish."
We get why... it's freaking awesome.
Gomez dropped the video today, which is basically just one big close-up of her mouth, but fans are obsessed with it and so is Taylor.
On her Instagram, T-Swift wrote the caption, "Sultry pop music from this dreamy almost-birthday-girl" with a series of clapping hands emojis.
Our sentiments exactly.
This is Swift's first Instagram post in more than two months. Two months, you guys. It is also the third gram in a row that is in support of another artist's music. (Swift's two previous posts were in celebration of Haim's new single, "Want You Back," and Lorde's single, "Green Light.")
Fans are particularly pumped about the support for Gomez, as we were all starting to question if the #TayLena friendship is as strong as it used to be.
Twitter is hyped to see that it is.
Swift also loves nothing more than giving Gomez specific birthday love.
Back in 2016, Taylor jumped on Instagram to post a throwback picture in honor of Gomez's 24th birthday, despite the massive Kimye-Swift scandal going on at the time. Kim had just leaked that infamous phone conversation Taylor had with Kanye regarding his song "Famous," but T-Swift made sure to make Gomez a priority on her special day anyway.
It doesn't look like Selena has responded to Swift's gram yet, but we can almost feel the text conversation they're probably having right now.
"Girl. Love your jam."
"Thanks, girl. See you at that spot that celebrities go to that no regular citizens know about tonight?"
"Yes. What are you wearing?"
"Designer stuff."
"Same."
Ugh, to be famous and best friends.