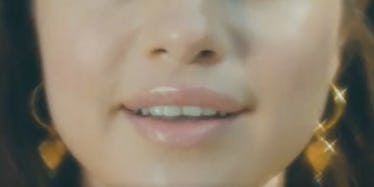 Selena Gomez Drops "Fetish" And It's The Hottest Song Of The Summer So Far
Twitter
"Fetish" is here, people! Selena Gomez's newest single from her upcoming album has finally arrived, and it's an amazing follow-up to her last single, "Bad Liar."
Although this isn't her official music video, it's still something to hold fans over.
It's literally just a shot of Gomez's mouth mouthing the words for the entire song... it's kind of weird, right? Is this Selena Gomez's official audition for Lip Sync Battle?
The teaser photos for the music video feature some ~artsy~ shots with filters that I don't Instagram provides, but I wish it would. Seriously, just look at how hazy and majestic this is:
COME THRU LIGHTING.
In the promo images, we can assume Gomez will be wandering through what looks like a '90s suburban neighborhood and sporting some excellent '90s gear. Even the cars are #90s in the photos. I'm living for it.
It seems like Gomez is really into the whole "set a music video in a certain decade" thing, as the "short film" for "Bad Liar" was set in the '70s, with Gomez playing all of the film's characters and sporting very excellent hair-dos from that period.
Living for this trend, Selena.
Gomez released the "Fetish" lyrics on July 12, and they're seriously sexual. Check them out:
Verse 1:
Take it or leave it Baby take it or leave it But I know you won't leave it 'Cause I know that you need it Look in the mirror When I look in the mirror Baby I see it clearer Why you wanna be nearer
Pre-chorus:
I'm not surprised I sympathize, ah I can't deny Your appetite, ah
Chorus:
You got a fetish for my love I push you out and you come right back Don't see a point in blaming you If I were you, I'd do me too
Verse 2:
Reaching your limit Say you're reaching your limit Going over your limit But I know you can't quit it Something about me Got you hooked on my body Take you over and under and twisted up like origami
Gucci Mane's verse:
The way you walk, the way you talk I blame you 'cause it's all your fault Ya playin' hard, don't turn me off Ya acting hard, but I know you soft You my fetish, I'm so with it All these rumors bein' spreaded Might as well go 'head and whip it 'Cause they sayin' we already did it Call on Gucci if you ever need and I'll be South Beach in the drop top gleamin' Order diamonds, Aquafina Just need you in a blue bikini
WOO. I AM SWEATING FROM JUST THESE LYRICS ALONE, NEVER MIND THE VIDEO.
Thank you for this, Selena. Now, can you tell me what app you use to edit your pics?