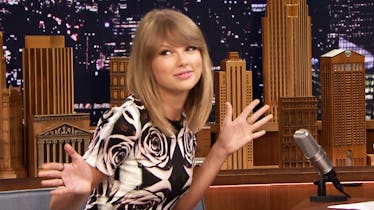 Taylor Swift Is Talking About Sports In New Video And The Internet Is Confused
YouTube
Taylor Swift has finally returned to social media... but not for the reason you think. The 1989 singer has stepped back into the spotlight to talk sports, and the internet is really confused.
A curly-headed Swift somehow made her way into the video congratulating MVP Russell Westbrook of the Oklahoma City Thunder. Her cheeky video is pretty hilarious, but the whole thing seemed to come out of left field (sports reference, go sports!).
Swift jokes she "taught him how to dribble" and he told her to "shake it off" the first time he beat her in basketball. The funniest part? The two have never actually met in person. Well played, Tay.
However, people on Twitter were torn.
Legit, @RPMSports18 expressed my thoughts perfectly. What is 2017? As it turns out, Westbrook is a mega T. Swift fan.
He's Often Seen On Snapchat Jamming Out To Her Greatest Hits
He Also Loves Her Concerts
His Love For Swift's Music Isn't Really A Secret
Even though Swift and Westbrook have never met, they aren't as disconnected as people think. Westbrook hasn't commented about the video on his social media, but he's been pretty busy. Yeah, yeah, that whole basketball thing, but he also has an adorbs one-month-old at home. Needless to say, Westbrook is winning 2017.
What made this appearance by Swift all the more random is she's been out of the public eye for about a year. The singer has kept an insanely low profile since her breakup with Calvin Harris and quickie relationship with Tom Hiddleston last year.
Elite Daily reported that Swift has even worn disguises to keep herself and new relationship with actor, Joe Alwyn, private.
I hope this video is exactly what Swift needed to get back out there! I want to know what she's wearing and doing and eating and ranting about. Too much? I don't think so. Come back to me!
Take this as a lesson. You literally never know who's going to pop up to talk about sports, but that doesn't make it any less awesome. This is my official petition for more Taylor Swift in 2017.