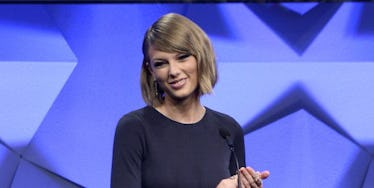 Taylor Swift's Fans Are Losing It Over This One Line Off "Look What You Made Me Do"
Frazer Harrison/Getty Images for GLAAD
GUYS, this is not a drill. Taylor Swift dropped her first single in years and it's INSANE. It's got such a creepy vibe to it and I'm a little bit scared (pls don't hurt me Taylor). The single dropped late Thursday night on Aug. 24 and has some really intense lyrics. It's obviously about someone who crossed her... *cough* Kanye West? Katy Perry? *cough* Anyway, the best part of the song comes towards the end, and fans have caught onto it so quickly and won't get over it. Taylor Swift says, "The old Taylor can't come to the phone right now. Why? Oh! 'Cause she's dead!"
WHAT. WHY YOU DEAD, TAYLOR?! The snake Instagrams she's been teasing fans with all week definitely ties into this. Swift fans think the "snake" was a metaphor for her "shedding her skin" and morphing into some new version of Taylor Swift. This song definitely solidifies that. Swift has also been called a snake by people in the industry in the past, so others think her using the snake is her way of owning her reputation. (Hehe, Reputation is the name of Swift's new album.)
Other lyrics in the song include:
I don't like your kingdom keys They once belonged to me You ask me for a place to sleep Locked me out and threw a feast (what?) The world goes on, another day, another drama, drama But not for me, not for me, all I think about is karma And then the world moves on, but one thing's for sure Baby, I got mine, but you'll all get yours
Karma is comin', y'all! Fans really couldn't get over the line about the old Taylor not coming to the phone, though. Swift even changed it to her bio on Instagram and Twitter. Fans took to Twitter to let out all of their emotions.
Honestly, Taylor, you're killin' it. I can't wait for this video.
And, of course, stay tuned for Taylor Swift's album, Reputation, which drops Nov. 10.