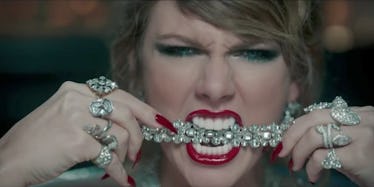 Taylor Swift Dropped Her New Music Video And We Have So Many Questions
YouTube
Taylor Swift used the VMAs to premiere her newest music video, "Look What You Made Me Do," and it was epic. Tay is mad, and she doesn't care who knows about it. As always, her music video delivered drama, typical Swifty dance moves, and some subliminal shade. Taylor Swift's "Look What You Made Me Do" video did make me ask some serious questions. The first one: Why?
Swift has been out of the public eye for basically the past year. After tons of drama with Kim Kardashian and Kanye West (#KimExposedTaylorParty) and Katy Perry, Swift needed a break. She clearly spent that time stewing over everyone who has crossed her. She's back with a vengeance. The old Taylor is dead — you heard it here first!
While her Reputation album is a lot... angrier than others, I can't help but thinking it has the same unmistakable T. Swift vibe. For one thing, she definitely still has her sense of humor. In the video, the "new Taylor" is triumphantly kicking others down. If you look closely, she's actually kicking down "old Taylors." Iconic "Shake It Off" Taylor and "You Belong With Me" Taylor are being literally kicked in the face. Stop it! I love those Taylors!
That's what leads me to these questions. Why, Taylor, why? That's probably my biggest question. I guess if you call Taylor Swift a snake, she will show you what's up.
1. Why do you look so scary?
In the beginning of the music video, Swift literally crawls out of a grave and it's scary AF. I understand the "rising from the dead" analogy, but in full zombie? No, just no.
2. You don't like the old Taylor?
I love Taylor Swift because no matter how much people hate on her, she's unapologetically herself. Although she's poking fun at the "old Taylor" in this vid, she's also kind of dumping on everything she's ever done. Not cool, Tay. Do you, but appreciate where you've been.
3. Obvious shade... interesting choice.
This is less of a question and more of a statement. In my opinion, this song might as well be called, "I'm Mad At Kim and Kanye." Sooooo many subtle jabs. Taylor Swift shades Kim Kardashian and Kanye West like it's fun for her... and it probably is. At the end of the video, when all the "old Taylors" gather together, she relives the 2009 VMAs "Imma let you finish" moment, the snake moment, and more.
Overall, I am kind of obsessed with Taylor Swift's new music video. Although I do miss the "old Taylor," this new Swifty kicks ass. I seriously can't wait for the rest of the album. So much shade to come.