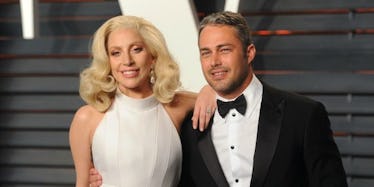 Taylor Kinney Reveals What He Wants In A Woman After Split From Lady Gaga
REX/Shutterstock
Taylor Kinney and Lady Gaga are now a thing of the past.
And, after hearing what he had to say at the NBCUniversal Summer Press event in Los Angeles, it appears Kinney is well on his way to finding the next woman he wants to date.
After half a decade together, Kinney and Gaga ended things and called off their engagement.
Monday, the "Chicago Fire" actor opened up about his dating life after Gaga and what he's looking for in a woman.
Speaking with the press, the 35-year-old said,
My dating life is through 'Chicago Fire.' I live vicariously through my character.
Uh, OK.
Eventually, though, Taylor Kinney spilled the beans on what he's looking for in the dating world. He said,
I don't think I have a type. I think it's more of an energy. I think of compatibility as the intangibles of something, and someone that you meet and connect with, and someone you can laugh with, and maybe share a [similar] sense of humor, then things go from there.
You hear that, ladies? Taylor Kinney is looking for the best energy in the room! Who thinks they have it?
Despite they fact that they had reportedly already broken up, Kinney was in attendance to see Lady Gage perform at the Super Bowl 51 Halftime Show in Houston.
Speaking on how she currently views Taylor Kinney, Lady Gaga told Howard Stern,
I hate to sound like a hippie, but I kind of am one and so is he. We love each other — that's it. We're just like everybody else, and we really love each other.
Very interesting.
At the NBCUniversal press event, Kinney also spoke about this season of "Chicago Fire." The 35-year-old said,
The episode coming up is a bottle episode in that we shot it all in one place. Everything takes place at Firehouse 51, and there's a bit of a predicament outside, and gang members. They take us hostage for the most part. We don't have outside communication, so we can't get cops to come and everybody is kind of forced to either hide or try to negotiate or do whatever they can to survive the situation.
Admittedly, I've never seen "Chicago Fire," but after reading Kinney's description of what's going to happen, maybe I should start binge-watching.
Citations: EXCLUSIVE: Lady Gaga's Ex Taylor Kinney on Dating After Split: 'I Don't Think I Have a Type' (Entertainment Tonight)