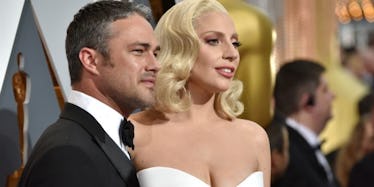 Taylor Kinney Watched Lady Gaga At Super Bowl, So You Can Say 'Hi' To Your Ex
REX/Shutterstock
We've all been there.
We're in a crowded bar and see our ex across the way. Since we're all adults here, we immediately hide behind the nearest stool and close our eyes hoping they completely disappear.
However, if there's anyone who can convince us all to take the high ground and say a gentle "hello" to our former significant others, it's the real winner of the Super Bowl: Lady Gaga.
That's right, the singer turned Peter-Pan-David-Bowie-hybrid during the Pepsi Zero Sugar Super Bowl 51 Halftime Show had none other than her ex Taylor Kinney in attendance at Houston's NRG Stadium to support her.
Lady Gaga has openly admitted the two are just on a break (no word yet as to whether they're using Rachel's or Ross' definition of a "break" from "Friends") and wrote about their "soulmate" status in an Instagram post,
Taylor and I have always believed we are soulmates. Just like all couples, we have ups and downs, and we have been taking a break. Please root us on. We're just like everybody else, and we really love each other.
Just like what JLo cryptically wrote about Drake on her Instagram, if it's meant to happen, it will.
Lady Gaga even spoke to Howard Stern about how she really doesn't even think of Taylor as her ex. She said,
I hate to sound like a hippie, but I kind of am one and so is he. We love each other -- that's it.
So, will the two be exes forever?
Probably not, which is why there is clearly no animosity between the two of them.
So, the next time your see your old lover in that crowded bar, go over to them, shake their hand and whisper in their ear,
We're just like everybody else, and we really love each other.
Just kidding! That'd be an extremely awkward thing to do.
However, what you can do is tell them it's good to see them and maybe, just maybe, the two of you can grab coffee to catch up.
Citations: Lady Gaga's Ex-Fiancé Taylor Kinney Was Spotted at the Super Bowl (Glamour)