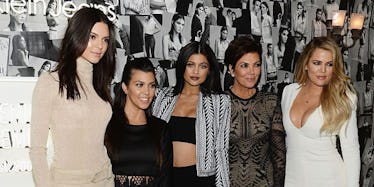 The Sexiest Looks To Rock This Summer, Inspired By The Kardashians
Chris Weeks/Getty Images for Calvin Klein
Summer is around the corner, and if you're anything like me, you are looking to the people on television to tell you what to wear, because let's face it: You can't fit into your Old Navy bermuda shorts from 2009 anymore and everything is chafing.
Obviously, I'm turning to the Kardashians to tell me what to do.
Sure, some of their outfits are... um... intimidating(?), and might involve impracticalities that don't make any sense for the average Karen from the town BBQ, but that's why you have me!
I sorted through their cute T-shirts and weird synthetic bodysuits to snag some awesome Kardashian looks you can actually rock this summer.
You can trust that I know what I'm talking about. I look like this.
First off, get yourself a fresh cut, like now.
Summer is an amazing time to switch up your locks and go short. Take a page out of Khloé and Kylie's books and try a fresh bob or lob. This length keeps things sexy and sophisticated AND light and airy.
If you want some edge, make it blue. If you want some femininity, give it lots of body and skip the sleek center part!
Next, buy (or make) some seriously distressed jeans. So distressed, it's stressful.
I used to think jeans this ripped made me look like I was trying too hard, but now I understand it's just a fashion-y way to stay cool in the warmer months and still wear pants.
You can peep Khloé's jean line, Good American, for some inspo below.
Love to hate it, but butt bikinis are IN.
I know, I hate when the thong fad comes back around, too. But no matter how you cut it, butts have been having their day since 2011, and boobs are on the back burner.
The Kardashian sisters are well-known for showing off their derrières, making a high-cut bikini a must this summer.
Find some statement sunglasses to protect yourself from the sun's rays and also hater's shade.
The quickest, most versatile and least permanent way to spice things up this season is to rock some major sunnies.
Like a lot of people, you might think, "But Jamie, my face doesn't look good in any sunglasses." Not true, my friend. Look at Kim wearing half of a motorcycle helmet as eyewear below.
If she can pull that off, you can certainly pick up a pair of $15 Ray-Ban knock-offs at Target.
Girl, PLEASE, buy some matte, mother flipping lipstick...
Get a lipstick in a bold or sparkly color. You can thank Kylie and Khloé for this one, obviously, who brought plump, soft, and STATEMENT lips to the forefront of our beauty routines.
For summer days, pick a glossy nude and for summer nights amp up the "wow factor" by rocking a neon coral or red. Don't forget to line and blot, blot, blot if you want that sh*t to last.
And do NOT forget your selfie stick.
Wear, wash, rinse and repeat as necessary.