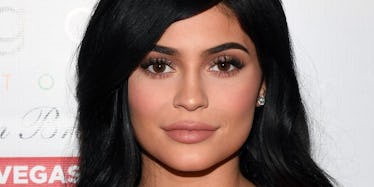 15 Names For Kylie Jenner's New Lip Kits That Are Better Than The Ones She Chose
Getty Images
If you guys know anything about anything, you probably have heard from one or two people that Kylie Jenner has this whole lip business going on.
Earlier this week, Kylie, along with sister Kendall Jenner, launched the second drop for their clothing line, and Wednesday she dropped three new matte lip colors. Though she hasn't called me directly to give me the good news, I can only assume they sold out faster than you can say "Okkkkuuuurrrrr!"
Here are the sweet, sweet babes in all their glory! Please welcome Strawberry Creme (pink), Grape Soda (purple) and Poison Berry (deep red.)
Welcome to the family guys! Aren't they cute???
One of Kylie's specialities is naming her lip colors. She often goes with a Kardashian/Jenner staple phrase or even the names of her family members themselves.
This go-around, we feel like she got... IDK... kind of lazy??? Committing to a few food flavors is expected when it comes to makeup and we feel like the youngest sister could have stretched herself.
Here are a few other names we think would have been better than the ones she chose.
Strawberry Creme could have been dedicated to her past relationship with Tyga, naming it something like:
1. Tyga? More like Ty-NO!
2. Faux Engagement
3. Birthday Car
4. Bae-by's Daddy
5. Tyga? I don't even know her! (Sorry)
Grape Soda reminds me all of all of her past wild hair colors, and she could have gone with names like:
6. Wig
7. Bob
8. Bottled
9. Extension
10. High Pony
Which leaves us with Poison Berry. If I were Kylie, I'd dedicate this to my fans and call it...
11. Stop Following Me
12. Snap
13. 95 Mil
14. Own My Own Home
15. And my favorite... Here's My Jaw Line Looking Fierce Again
Of course, these are just suggestions and I'm not, like, famous per say... but I DO know Kylie, and feel like I really hit the lip liner on the lip line with these name suggestions, if you know what I mean.