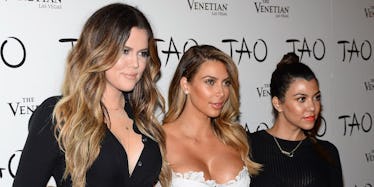 8 Products We Wish The Kardashians Would Come Out With Already
Ethan Miller/Getty Images
Sure, we all know about the Kardashians' clothing store Dash, Kylie's lip kits, Khloé's Strong Looks Better Naked book, and all of Kim's blessed Kimojis, but there are some pretty obvious products the Kardashians refuse to invent for us, and I'm here to call B.S.
Laddieeessss, what gives?!
There are loads of CLEAR Kardashian family trademarks, from their hair, to their hips, to their endless energy... and we. want. in.
Here are 8 products we think Kris Jenner should get a start on already.
1. Perfect hairline marker
Have you literally seen these girls' hairlines? They are perfect!
Throwing out assumptions here, but I feel like all we need is a simple hairline pen or pencil (like eyeliner) from the famous fam and VOILA! Hairline perfection. I'd spend $11 on that for sure.
2. "How To Wear Latex For Dummies" book
Guys, PLEASE teach us your latex ways! I've never even considered latex as a fabric until these girls started rocking it the way I rock JCPenney's cotton alternatives.
I imagine outfits like this come with lots of friction, chafing, and sweat issues, and would love an insider's look as to how to wear it without, IDK, dying?
3. Natural "That Specific Part Of Your Hip" enhancer
You guys know what part I'm talking about.
It's not really outer thigh, and it's not really hip bone, and it's not really love handles, but like... kind of a combination of the three, making it triple the wonder.
Kim and Kylie especially have a pronounced hip line, and I'm just wondering if they can put it in pill form for me to take with rosé.
4. Just, like, a release of their plastic surgeon's phone number (???)
I know, I know, I know. All of their faces are just natural fillers and no one has had any "real" work done. That being said – hook a fan up with your doctors, yo. You guys look great!
Little before...
Little after...
5. A wig line of all their famous hairstyles
Not all of us have the luxury of just spending millions of dollars to go platinum at the drop of a dime, but we WOULD buy that wig if Kim Kardashian told us to.
From the signature slick backed high ponytail, to Kylie's OG turquoise locks, to Khloé's fresh messy bob, these sisters have coined some looks and we love to love them.
6. Pool furniture
Real talk, no one has better pool furniture than this entire family.
I haven't been able to keep up with all of their respective houses, but I have been able to keep up with the various lounge chairs, floating swings and flamingo floats they all have in their backyard pools.
Just tell me what color, shape and size and I'll take 10 cloud, waterproof love seats, please, for my non-existent pool.
7. An underwear and bra line
Right? Like, RIGHT?!
For how totally amazing all of these women's bodies are, it only makes sense that they come out with a designer lingerie line promising to make our potato bag bodies turn into the shape of violins.
And I'm not talking about repping some other designer – like Calvin Klein, HA! – I want a straight up "K" golden emblem emblazoned across my crotch when I step out in their undies.
8. An energy drink and/or jet lag beverage
This. family. is. busy.
We legitimately never see them sleep, the whites in their eyes are never red, and they are traveling constantly. If I get even just thirty seconds less than eight hours of sleep, I look like someone dipped a zombie in a kraken and let it loose.
I would love for the Kardashians to bottle their energy, clarity and professionalism and let me drink it like the alcoho... I mean coffee... addict I am.
Listen, guys. Make your own Amazon website. Call is "Kamazon," and take all of my money.