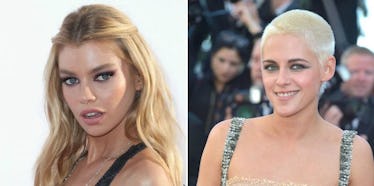 Stella Maxwell And Kristen Stewart Are The Cutest Couple Ever In New Pics
Frederick M. Brown/Getty Images and Pascal Le Segretain/Getty Images
I wish I looked half as cool doing literally anything as Kristen Stewart and Stella Maxwell do walking around as a perfect couple.
The adorbs duo recently moved in together into Kristen's four-bedroom home in Los Feliz, Los Angeles, after reportedly dating for only five months.
A source told Us Weekly that while Stella keeps an apartment in New York City (as every supermodel probably should), "she spends all of her time" at Kristen's.
The two were recently spotted out in West Hollywood, snagging a coffee and looking cute AF in sporty clothes (which is different from Stella's usual  Victoria's Secret style). Instead, she opted for a much more paired down look that still somehow screams, "I AM A GORGEOUS GODDESS AND SO IS MY GF!"
Look at them.
Damn, what I would give for an iced coffee and to be a supermodel and/or famous actress... you know what I mean?
Before their latest jaunt for bevies, Stella was visiting Kristen in New Orleans where she was filming her new movie and the 2018 thriller, Underwater.
While in town, Kristen and Stella seemed to go on a joy ride, taking the opportunity to create their own little photo shoot.
Stella was spotted hanging out a car window... and when I say "hanging," I mean posing like an actual queen in shorts, a black bra, and denim jacket as if she gets paid to do this for a living or something. Kristen was hanging out the other side of the car, snapping what appears to be, like, a really great photo.
Kristen doesn't have a public Instagram account, and the photo has yet to show up on Stella's social media, but we can only assume it's an awesome shot.
From a relationship goals perspective, here's an awesome video my boyfriend took of me looking arguably as sexy as Stella.
I know, which one is me and which one is Stella? I get that all of the time.
Citations: Kristen Stewart Has Moved In With Girlfriend Stella Maxwell (US Weekly)