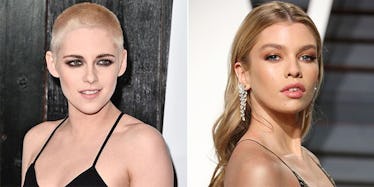 Kristen Stewart And Stella Maxwell Are Couple Goals In Adorable New Pics
REX/Shutterstock
Although they've been dating for three months, it's still really rare we ever get a glimpse of Kristen Stewart and her supermodel girlfriend Stella Maxwell out and about together.
But the gorgeous couple did step out together in New Orleans this week to remind us of how good they look together.
Kristen and Stella have been keeping their relationship super under-the-radar since they started seeing each other around Christmas, but I guess now they know it's more than just a fling and we'll be seeing them together much more!
Kristen does seem to be a lot more willing to open up about her personal life recently, too — remember when she called herself "so gay" on "Saturday Night Live" last month?
Of course, that was before she shaved her head and dyed it blonde, the look she's rocking in new pics of her and GF Stella Maxwell.
The supercouple was spotted walking Kristen's dog Bernie in the streets of New Orleans on Thursday, both sporting crop tops.
Kristen wore a red cropped sweater and faded blue jeans while holding hands with Stella, who was in a black crop top and a grey cardigan. Check out the stylish pic below.
God, I just love them so much! I'm really rooting for this relationship because not only do Kristen and Stella obviously look great together, they are also super connected, and I'm ready for them to run Hollywood together.
In case you didn't know, Stella Maxwell is basically in with all the super-popular it girls right now thanks to her status as a Victoria's Secret Angel.
Some of her besties include Kendall Jenner and the Hadid sisters, and she's pretty much Taylor Swift squad-adjacent. Plus, Miley Cyrus is her ex-girlfriend!
And as for Kristen Stewart... I mean, she's Kristen Stewart; she's already a huge name. But she has her fair share of famous exes whom she's still friendly with as well, including Robert Pattinson and St. Vincent.
Here's to a long and happy relationship, Kristen and Stella!
Citations: What a (tummy) tease! Kristen Stewart packs on the PDA with girlfriend Stella Maxwell as they walk hand-in-hand wearing matching crop tops in New Orleans (Daily Mail)