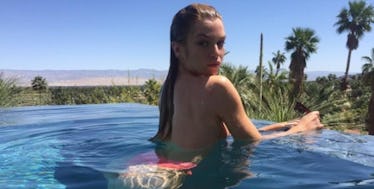 VS Angel Stella Maxwell Reveals A Bold Trend You Can Rock At The Beach This Summer
Instagram
Now that summer is approaching, I'm sure many of us feel inspired by this warm weather to get outside and exercise.
I personally wait until May/June to even buy sneakers because -- let's be real -- I'm spending all winter bundled in bed eating junk food and watching Netflix.
However, now that it's almost Memorial Day weekend, I'd like to uhhhhh, tone my entire body before getting into a swimsuit. And who knows more than working out, looking fashionable and feeling confident better than a Victoria's Secret Angel? LOL, literally no one.
On Tuesday, May 23, Elite Daily had the chance to speak with model Stella Maxwell about her workout advice and the bold trends she'll be rocking this summer.
When I asked Stella to give me advice on how to look my best while working out in the warm weather, she suggested I check out the new ballet inspired Victoria Sport collection, White Hot Summer.
If you go directly to the VS website, you'll see the gorgeous collection on the homepage. Stella said the sportswear is "designed based off ballet clothes."
She pointed to her pants and explained,
There are little bows, which is really cute and kind of a sexy new trend that I've never seen in workout gear until today.
As you can see from the photos, the collection uses a very light palette. Stella added,
I like them personally because they're clean, they're white, they're crisp. They're perfect for summer, I'd wear it out in the street and be thrilled with how I looked because it's not uncool workout gear... it's trendy and fashionable which I think is all I want. I want to feel good when I work out. It just adds to your confidence.
Amen, sister. When can I get a pair?!
To help launch the collection, Stella attended a Ballet Beautiful Class with Mary Helen Bowers. I've personally never done ballet before, but the 27-year-old Angel filled me in on what to expect from a class:
Basically, we were with Mary Helen here at Ballet Beautiful and she didn't go too easy on us which is great because she gave us a really great work out and it really tests your core and it's a lot about balance and inner core strength and endurance... you gotta keep up the reps. You can really feel the burn and you can really feel it doing something so I think we got a good work out. There are some lunges, obviously plies... we were doing a lot of work on the matts, like crunches... obviously we're all beginners and it's a thing where you build up your strength to do a lot of the harder, proper moves later.
Sounds intense. Stella said she feels very strong after a good ballet class and she enjoys it because it's "something different."
I mean, it sure sounds more interesting than me staring at a blank wall while running on a treadmill.
Now, since bathing suit weather is just around the corner, I asked Stella to give me advice on what to wear on the beach since Victoria's Secret discontinued its swimwear.
She actually suggested wearing lingerie on the beach as a substitute! Stella explained,
I would wear a bralette on the beach and be really comfortable. All these pieces are really appropriate for hanging out on the beach.
Honestly, I'm into it. If I'm being real, I don't even go swimming half the time... I just lie on the sand like a beached whale.
So, which items are Stella's favorites?
I really like the teddy, out of the lingerie, and the high-neck personally because I think I can blend it with my clothing and make new outfits out of it for summer and I love I can use my lingerie as other items in my closet, rather than just pinned under my clothes.
Keyhole Lace Teddy, $98, Victoria's Secret; Lace-up High-neck Bra, $55, Victoria's Secret 
I couldn't have said it better myself.
Well, you guys heard it here. Be sure to check out the White Hot Summer Victoria Sport collection at Victoria's Secret ASAP to get your bralettes in time for Memorial Day weekend!
Peace, love, and hotdog buns. Have a good one, ladies.