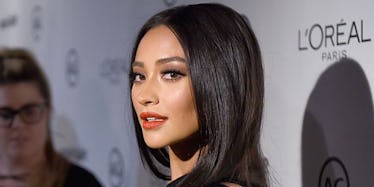 Shay Mitchell Opens Up About Her New TV Show & It's Nothing Like 'PLL' – EXCLUSIVE
Matt Winkelmeyer/Getty Images for Marie Claire
Shay Mitchell has it all: gorgeous hair, a loyal fanbase, and an aesthetically-pleasing Instagram that will make even the biggest social media stars feel jealous. More than that, Shay Mitchell has a new TV show in the works and plenty of memories from her latest adventures traveling around the world. Yup, you could say life hasn't been too bad after Pretty Little Liars ended. In fact, things seem pretty damn sweet. Elite Daily had the chance to speak with the 30-year-old on Sept. 6 at the launch of the Blue Delta Skymiles Credit Card from American Express event. Mitchell hosted the evening to highlight the travel and dining benefits the card has to offer. If you love traveling as much as Mitchell, then the Blue Delta Skymiles Credit card is definitely something you want in your hands.
After taking photos and trying all of the incredible food dishes at the Taste Of Travel event, I was able to chat with Mitchell about her new Lifetime drama series, You. The thriller, based on Caroline Kepnes' famous novel, stars Gossip Girl actor Penn Badgley as Joe, a bookstore owner who develops an obsession with a girl named Beck.
When asked about what fans can expect from her new show, Mitchell says,
If you love mystery, if you love romance, and you love a page-turning book, that's really what this encompasses... I kind of say it's a love story in itself and based on obsession and I think it's very fitting, especially this time with social media and everything that we do... we really put ourselves out there in every way, and it's just about being a little cautious.
Mitchell will play Peach Salinger, a close friend of Beck. After talking to the actress, it's clear her new role will be much different than the beloved Emily Fields she played on Pretty Little Liars. Mitchell explains,
Peach is maybe not the nicest person in the book, but she does care very deeply for Beck, the main character, and she's just very protective of her, so sometimes it might come off a bit snarky, and maybe she is sometimes... but, you know, with every main girl she deals with her own set of insecurities ... Emily was the nice sweet girl, Peach is the sassy, sometimes really blunt... could be a little mean...
Mitchell says it was "fun playing the nice girl" on Pretty Little Liars, but she's very excited to now play "the spicier girl." If you loved the drama and suspense that came from the Freeform show, then just wait, because You sounds like it might bring even more.
In addition to talking about You, Mitchell opened up about her role in Cadaver, a new horror movie coming out in 2018:
That was a really fun role... I did that right after PLL, and again, there was a lot of action jam-packed into that... it's kind of a psychological thriller, more than a movie, that's based on my character Megan who is a recovering addict, was a cop, and basically is staying out of trouble by working in a morgue... and just different issues that happen in the morgue.
As great as it was to hear about Mitchell's newest projects, the night was about one thing and one thing only: traveling. If you follow the model on Instagram (WHICH, UH, YOU SHOULD BECAUSE HER PICS ARE AMAZING), then you'll know she recently wrapped up a Shay-cation in Greece. Mitchell soaked up the sun and shared Snapchats of her poolside eats and cute summer styles. So, where can we expect to see the star travel next? Mitchell says,
I want to go to Iceland and Tokyo... those are next on my bucket list.
Same, girl. Same. If you're on a tight budget for the fall or want your next trip to be low-key, Mitchell shares some great advice:
I'm always a big fan, too, of staycations, meaning you do research about places that are cool... local hometowns, there are so many different things to see in the states, so I think taking advantage of packing up your car and going out and exploring.
Sounds like a solid time to me. I also asked Mitchell to share the one item she can't travel without:
Phone and lots of chargers!
No surprise there! If you're looking to book a vacation sometime soon, then you should learn about Delta and American Express' Taste of Travel with #DeltaAmexBlue contest. If you enter at www.DeltaAmexBlue.com, you and three friends could win a trip to Nashville, Tennessee. THIS ISN'T A JOKE, PEOPLE. Check out that link and start packing your bags. Just remember to not forget your phone! Thanks for the reminder, Shay!