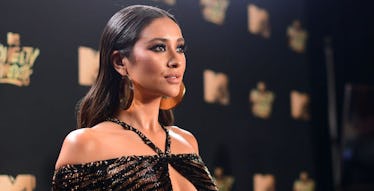 Shay Mitchell Went On An Epic Vacation To Greece And The Pics Will Make You Jealous
Matt Winkelmeyer/Getty Images
After seven years and an emotional finale, we all needed to unwind a bit after Pretty Little Liars. Shay Mitchell took the lead and has been living the most epic Grecian vacay.
I mean, homegirl is doing it big time. The 30-year-old actress has taken her Shay-cation over to Mykonos Island in Greece. From topless beaching to super glam bikini pics, this looks like the best vacation ever.
Ugh, I would literally clean the bathrooms if it meant I could go along. Here's what's happening on Shay-cation.
Glam All The Time
Besides being drop dead gorgeous, Shay Mitchell is so glam. Her highlight is always on point and she has amazing clothes. She's even admitted her PLL character, Emily, has a completely different style than her. While Emily's wardrobe is all sneakers and zip-ups, Mitchell much more prefers heels and dresses.
Also, did she just get out of the water and still look like that? How?
Hoop Earrings For Every Occasion
Always so extra! You won't catch her without a pair of hoops.
Living The Grecian Lifestyle
When in Greece... go topless! Mitchell and friends enjoyed the topless beaches in Greece, because why not?
Always Celebrating
This Canadian actress is seriously living her best life. She's always smiling and living it up, no matter where Shay-cation takes her.
Sun's Out, Buns Out
Mitchell is never afraid to show off a little skin. There have been a lot of bums and side boobs on this trip. Do you, girl!
Lots Of Bikinis
I'm interested in having a look inside her suitcase. I haven't seen Mitchell in the same swimsuit twice. Does she buy them once she arrives or does she just pack a bunch? I want answers!
Dance Like No One Is Watching
When on Shay-cation, dance and live it up! I'm having serious FOMO over this trip.
Amazing Poolside Eats
OK, there's a burger, pasta, salad, sandwich, and fries by the pool. I'm drooling. There's something about eating junk food in a bikini that is oh-so-satisfying.
All in all, can I just be Shay Mitchell?
Shay, if you're reading this and need a new travel companion, please hit me up!