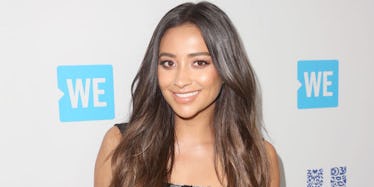 Shay Mitchell Kept A Souvenir From 'Pretty Little Liars' And It'll Make You Cry
Jesse Grant/Getty Images for WE
Pretty Little Liars might be over forever, but that didn't stop the cast from keeping some mementos from their time there.
Shay Mitchell recently revealed she went through her character Emily's wardrobe after the filming of Pretty Little Liars ended and chose a souvenir to bring home with her.
Are you sobbing yet? Or are you still sobbing over how awful that series finale was? (Sorry, fam, but women getting married and having babies is the least original ending to a series ever.)
Anyway, Mitchell revealed in a recent interview that she kept some of Emily's athletic gear after the show wrapped. She said,
I didn't think I needed her running shoes because our styles are completely different. If I could wear heels every day, I would. But that's Shay. Playing Emily was super fun for me because I literally got to be in her shoes.
She also revealed she held onto her audition sides (scripts) that were all "ripped and highlighted." She also got a pretty permanent memento of her time in Rosewood when she and the rest of the cast got matching tattoos on their fingers honoring the show.
When talking about the tattoo, Mitchell said, "They somehow got me in the chair and I was screaming for the two minutes it took to do this... But I love it now."
Yeah, I feel that. I got a new tattoo recently and sometimes I look down at it like, "Hahahaha, f*ck. What have I done?" But then I just get over it 'cause I'm too poor to have it removed. So I love it now. Oops!
Mitchell made some more emotional tributes to Pretty Little Liars throughout the show's last season. In a video about how much PLL has changed her life, Mitchell cried so hard, her fake eyelashes started to fall off. Girlllll, do I know that struggle.
In the video, she said,
Please excuse my crying because this was a very emotional moment for me. I wanted to be able to share this moment with all of you who have helped me get to where I am today. I am so thankful for all of the support that you guys have given me in the past seven years, and I am excited to continue this journey with you. My eyelashes are all coming out. All of them. They're all gone. F*ck.
She posted it on her YouTube channel back in November 2016, and not a dry eye existed that day!
And for me, a dry eye hasn't existed since I watched that awful finale. Sorry, fam.