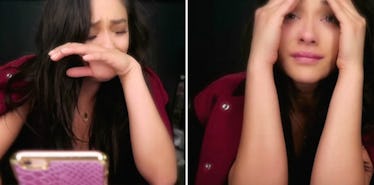 Shay Mitchell Cries So Hard In 'PLL' Goodbye Video Her Eyelashes Fall Off
YouTube
GOD DAMMIT, SHAY MITCHELL. WHY DID YOU DO THIS TO ME?
The 29-year-old actress wrote an emotional farewell letter to her "Pretty Little Liars" fam and posted a video of her reading it on YouTube.
If you're in the mood to cry your eyes out, then you've come to the right place! I'm sitting here bawling like a newborn baby.
SOMEBODY GET ME SOME KLEENEX, ASAP.
In the video, Shay Mitchell broke down in tears over how much "Pretty Little Liar's" has changed her life.
The star joined the cast seven years ago to play the lovable Emily Fields. Since her audition, Shay has grown very close to her co-stars, her writers and her role.
Unfortunately, all good things must come to an end. The show just finished filming its final season. "Pretty Little Liars" will officially end after season seven; the episodes will be completely done by spring 2017.
Shay Mitchell paid tribute to her show and had to stop several times throughout the clip because she was so overwhelmed with emotion.
At one point Shay told the camera,
Please excuse my crying because this was a very emotional moment for me. I wanted to be able to share this moment with all of you who have helped me get to where I am today. I am so thankful for all of the support that you guys have given me in the past seven years, and I am excited to continue this journey with you.
I AM NOT OK. THIS IS THE SADDEST THING I'VE EVER SEEN IN MY LIFE.
Shay cried so much in the video her fake eyelashes ended up falling off. She said,
My eyelashes are all coming out. All of them. They're all gone. Fuck.
NOOOOOOO, SHAY. KEEP IT TOGETHER, LADY.
Below, you can listen to her heartbreaking message. We love you, Shay. Emily Fields will always be in our hearts.
Citations: