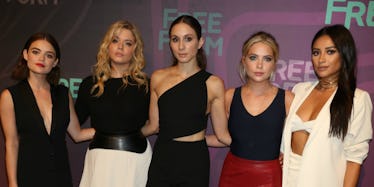 Shay Mitchell's 'PLL' Tribute Before The Show Ends Will Make You Bawl
REX/Shutterstock
Obviously, fans of "Pretty Little Liars" are having a tough time letting go of the show. Our grubby little paws are clinging to it like the last floating board off the "Titanic."
But the cast is having an even harder time.
Imagine spending seven years growing up with this cast and crew and then having to say goodbye.
There are only two days until the final day of "PLL" shooting.
The cast was already a mess at their last table read. Now, it must feel like saying goodbye all over again.
Shay Mitchell recently let us in on how she was feeling through Instagram, where she posted a photo of the WB lot, where "PLL" is filmed.
The "Pretty Little Liars" actress wrote,
Our last 48 hours in Rosewood begin today. Home for the last 7 years has been between those big beige buildings and my driveway has been between those palms. I am going to stay conscious and grateful for the next two days knowing the change and emptiness we will soon feel when they yell 'wrap' for the final time. Here we go kids... Thanks @geckoth for capturing this photo.
The cast members, which are basically family at this point, are always showing their love for each other on social media, going on vacations together and even taking part in bachelorette parties.
These next two days will be an emotional rollercoaster for them.
Lucy Hale, who plays Aria on the show, was totally unprepared for the final table read. She wrote,
Aside from a murder mystery, mysterious Rosewood, the Hunt for A, and a lot of sketchy characters…the foundation of this show started and ended with friendship. Through it all, these characters stuck by each other's side. Knowing and working with each of these ladies has left such a huge mark on my life. And I'm not ready to say goodbye.
NO ONE IS READY FOR ALL OF THESE FEELS.
Citations: Shay Mitchell Instagrams 'Pretty Little Liars' Tribute Before Show Wraps (Teen Vogue)