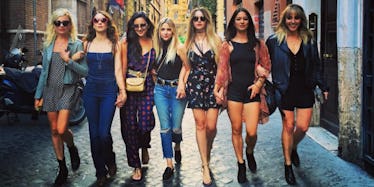 Troian Bellisario Is Having An Epic Bachelorette Party With Her 'PLL' Co-Stars
Instagram
I've been to a number of bachelorette parties (always the bachelorette, never the bride...), but they don't come close to what "Pretty Little Liars" star Troian Bellisario is throwing.
The actress, who is betrothed to "Suits" star Patrick J. Adams, was seen celebrating with her friends around Europe this past Labor Day weekend. Yup, it's her last time out on the town as a single lady. (Cue: Beyoncé.)
Her "PLL" co-stars, Shay Mitchell and Ashley Benson, also joined in on the fun. Thankfully, social media exists, and we can live vicariously through it.
She wrote,
SO excited to spend the week celebrating the most beautiful, smart (seriously. It's scary) and amazing person I know! Let the bachelorette festivities commence!
Us too, Shay! So glad to be here.
If you're wondering, the official hashtag is "#BellisarioGetsBooted."
There's been a lot of pasta and, I assume, a lot of laughs.
If this isn't your SQUAD GOALS, then what are you doing with your life?
I don't know what to think of you.
THEY HAVE MATCHING SHIRTS!
They even had time to visit some iconic places.
For now, the wedding date for Bellisario and Adams, who have been dating for four years, is very hush-hush but Adams told ET,
We're going to make sure that everyone finds out about that long after it happens. That's kind of our game plan… but obviously we're both incredibly excited. Once it does, we'll make sure that the world knows.
Please fill us in!
Even when Bellisario was asked about her upcoming nuptials she responded,
It's really tough when you're in season seven and your weekends are in a director's school, so mostly my life is just being Spencer.
Wow, would you look at that view.
While keeping her cards to her chest about her real life romance, she was more forthcoming about the love between her "PLL" character and Toby, saying,
I think it would be a really, really small ceremony. They might even elope. They would be building a house together, like a cabin in the woods. Then, at the end of building the cabin, they would celebrate by opening it up to everybody that they love and having a wedding there and beginning their lives there… and playing Scrabble endlessly.
Uh... those are all of our relationship goals, to be honest.
Citations: Troian Bellisario Celebrates Her Bachelorette Party in Europe With 'Pretty Little Liars' Co-Stars! (ET)