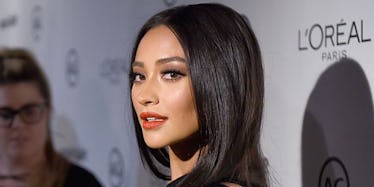 Shay Mitchell Reveals The A.D. Hints In 'PLL' That Even She Didn't Catch – EXCLUSIVE
Matt Winkelmeyer/Getty Images for Marie Claire
Shay Mitchell may be done with her Pretty Little Liars days (for now...), but she's still reeling over that series finale. In an exclusive interview with Elite Daily, Mitchell talks about life post-PLL, her typical workout/morning routine, and yes, clues about A.D. on Pretty Little Liars that she and the rest of the cast missed.
Warning: This post contains spoilers for the series finale of Pretty Little Liars. If you haven't watched it yet, but still want to, turn back now.
The last episode of PLL finally revealed to fans that the mysterious A.D. was Spencer's twin, Alex Drake (played by the same actress, Troian Bellisario). After an intense, dramatic episode, Drake ends up in prison and we flash forward a couple of years to get an update on the liars' lives. Everyone got a happily ever after, basically. Some people loved the PLL ending, and some didn't. Mitchell is of the former, obviously. When asked about the feedback the PLL finale has gotten, Mitchell tells Elite Daily,
I think it's great! Everybody was really shocked. Troian obviously killed it, she was so amazing and incredible playing Spencer and twin and all that. But I think, for the most part, I read only good things, so that's really awesome to hear.
During the final season, fans developed a "Twincer" theory that said Spencer had an identical twin, and that's who A.D. was. They ended up being right. Mitchell says the show's creators threw in clues to A.D.'s identity throughout the entire final season of PLL, but they're so small, even members of the main cast missed them. She tells Elite Daily,
I think if you would definitely go back and re-watch the season from start to finish, you'd pick up on a lot of different things. You know, what I was told with Spencer was with one character, she had bangs, in another character, she didn't. So when she was coming back, there was a scene with her and Hanna, she didn't have her bangs in. You can kind of pick up on little things like that. Even I, myself, will go back and pick up things that I wasn't even aware of. Marlene [PLL's showrunner] said that, she was like, 'I suggest you guys all look and see the clues that we put in there that even you guys didn't realize.' She was right.
The next time you'll see Mitchell on-screen is in the upcoming horror film Cadaver, which sounds completely horrifying just based off of the name. (Cadavers are dead bodies, in case you didn't know. So that's nice.) Mitchell tells Elite Daily her fans can expect to see an entirely new side of her in Cadaver. She also suggests that you don't see the film by yourself; you'll want someone to hold onto. Good to know.
She says her character, Megan, is "just somebody that's completely different from who [fans have] known and grown with, Emily." She continues,
It's a completely different role. This movie is terrifying. I saw a little teaser of it and I was super scared. I was even scared somewhat during the filming of it. But it's a really, really fun movie to go and watch. I suggest seeing it with friends, and maybe seeing it in full, complete daylight. She's definitely older than Emily. She's been through a lot more crazier experiences, even though that's kind of nuts to say because Emily went through her share of it. But those are different kinds of experiences. I think it's just a different sort of mentality that Megan has.
In the film, Mitchell plays a disgraced cop/former addict who takes a graveyard shift at the hospital that helped her get clean. Then something happens involving dead bodies, so you know, good family fun.
Mitchell's life post-PLL is all about focusing on work and exercise. Later this month, Mitchell will participate in the first-ever Propel Co:Labs Fitness Festival. The Co:Labs event is a two-day fitness festival hosted by Propel featuring celebrity trainers Harley Pasternak and Gunnar Peterson, whom Mitchell has trained with in the past and adores for their unique exercise routines.
She tells Elite Daily her typical workout consists of whatever she feels like doing when she wakes up. (For me, it's none of them.) Some days she wakes up and works out first thing, and other days she waits to workout until later in the day to avoid the L.A. heat. Mitchell's favorite workout at the moment, however, is running the stairs of the football stadium at UCLA. (Bless her for this bravery.) She says,
Recently, I've been running the stairs at the stadium steps at UCLA. I would want to do that usually earlier in the day or later, otherwise I'll have heatstroke. I think you've got to pick and choose your times depending on whether it's outside or inside.
And just like any fitness fanatic will tell you, Mitchell says the most important part of any workout routine is hydrating before and after the workout. She says,
I like to start the day with a large bottle of water and lemon. I like to finish workouts with -- honestly, one of my favorite drinks — Propel Electrolyte Water. [It's] really great after [a workout] because you're sweating out so many different sweat and toxins that the electrolytes put back in, so that's what I like to do after a workout. I think it's all about hydrating, especially before and after a workout. So those are things I like to try and do.
Mitchell doesn't subscribe to any specific diet or nutrition plan, however. She says she just makes sure she's eating clean and is currently trying to focus on a plant-based diet. She says, "I think it's everything in moderation, but I don't necessarily work out to burn off anything that I've eaten. And I don't necessarily eat something just because I've had a great workout." Bless.
Let's be real, making a habit of working out every day takes a sh*t ton of willpower and time. If you're struggling to reach your fitness goals, Mitchell has some advice for you. She says,
Get a friend, make a commitment to either meeting them at a class, or meeting them for a workout because then you owe it to somebody else too. Sometimes I wake up and I'm just like, 'Ugh, I don't feel like it. I'll just cancel this class.' But if you know you're meeting somebody there, you don't want to cancel. So I think having a workout buddy is something that's really great.
She says she's excited for the Propel Co:Labs festival because it will give her an opportunity to connect with fans and hopefully inspire some people to stay motivated about their fitness goals. The Propel Co:Labs Fitness Festival will take place August 12 and 13 in L.A. and will feature a bunch of different classes with celebrity trainers Pasternak and Peterson.
And if you're wondering if I picked Mitchell's brain about those Pretty Little Liars spinoff rumors, don't worry. I did. The PLL finale hinted there is a possibility for a spinoff series in the future, and the entire cast agrees that if it does happen, it should be about Alison.
Alison's character has a really dark past, but as the finale showed us, she gets her happy ending when she marries Emily Fields, Mitchell's character. So if the spinoff does center around Alison, is there a possibility that Mitchell's Emily Fields will be involved?
Mitchell thinks it's a definite possibility. She tells Elite Daily,
You never know! You never know what could happen. Anything can happen in Rosewood, as I say. But yeah, I think that would be really fun.
Did you get that, liars?! Shay Mitchell is down for a Pretty Little Liars spinoff. Ohhhhh, man. I can already smell the drama.