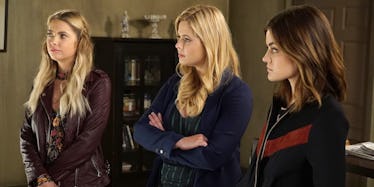 'Pretty Little Liars' May Be Getting A Spinoff Series, So Start Freaking Out
Freeform
Pretty Little Liars fans are gearing up to say their final goodbye to the show at the end of the month, but that goodbye might not be so final after all.
With just two episodes left in Season 7, showrunner I. Marlene King is making it sound like there's a very real chance a Pretty Little Liars spinoff will happen soon.
In an interview with Entertainment Tonight at the ATX Television Festival in Austin, King said there was "a definite possibility" of a spinoff, which sounds pretty dang promising.
She said,
It's not a for sure thing, but there's some ideas swirling around out there. Everybody knows I love this world. I love to play in this world and I love these characters, so it would be fun to keep a few of them moving forward in their lives.
Now, true PLL fans will know there has actually already been one spinoff. ABC Family's Ravenswood followed Caleb Rivers' (Tyler Blackburn) own dark adventures in a small Pennsylvania town.
However, the show only lasted one season (2013-2014) before it was canceled due to low ratings.
King told Entertainment Tonight she would want to bring in some Ravenswood characters for this potential new spinoff, but didn't want to say who just yet.
I wouldn't get too hopeful for the return of Spencer, Alison, Ariary, Hanna, and Emily in this spinoff, personally, but who knows? On Pretty Little Liars, anything can happen.
And though the cast has nothing to do with the writing, the girls did say in an interview with Vulture they wouldn't mind seeing more of Alison (Sasha Pieterse).
Lucy Hale said,
I think you have so many places you could go because [she has] such a messed up past.
Well, that's certainly true! Of course, if you bring back Alison you've got to bring back Emily too. Emison for life.