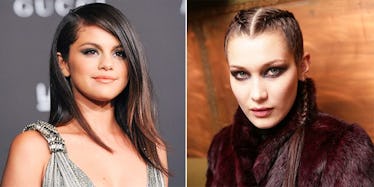 Selena Gomez And The Weeknd Awkwardly Go To Paris At Same Time As Bella Hadid
REX/Shutterstock
Imagine booking a vacation to the most romantic city on the planet, only to bump into your ex?
I mean, come on. You're trying to take loved-up selfies with the Eiffel Tower in the background, and then you realize your former bae is crashing the party? I can't imagine anything more awkward.
Amazingly, this nightmare scenario is exactly what happened to Hollywood's hottest new couple, The Weeknd and Selena Gomez.
The couple jetted off to Paris, France, for the most romantic getaway imaginable — the only problem was Bella Hadid, The Weeknd's ex, was there at exactly the same time.
You have to feel for Bella, too — she has had a tough time with her breakup from the "Starboy" singer and recently said she'll "always love him."
PEOPLE reported the new couple was seen leaving La Réserve, a five-star hotel, on Monday evening.
And just a few minutes away, Bella was spotted leaving Hotel George V.
Awkward.
Bella is in France for fittings ahead of Paris Fashion Week, so don't worry, this isn't some evil plot to get her man back.
They broke up in November after dating for a year and a half, but The Weeknd quickly moved on with Selena — the pair took a trip to Italy last month before their trip to Paris.
And things seem to be going super well for the hottest new couple in town, with Selena posting an adorable Instagram story of The Weeknd's concert just a few days ago.
Heartbreak aside, Bella seems to be doing OK, too.
It looks like she's having the BEST time in the French capital, judging by a fun Instagram pic of her with Mickey Mouse at Disneyland Paris.
Oh, and then there's this pic of her screaming through the Tower of Terror ride.
Just try not to bump into each other at some fancy Paris restaurant, OK, guys?
Citations: Selena Gomez and The Weeknd Enjoy Paris — and Bella Hadid's There Too (PEOPLE)