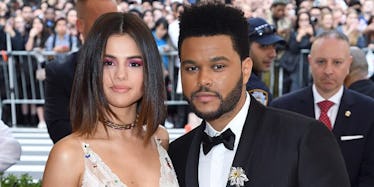 Selena Gomez Listening To The Weeknd's Music While Partying With Friends Is GF Goals
Karwai Tang/WireImage/Getty Images
Honestly, could Selena Gomez's life be any more perfect right now? Her and boyfriend, The Weeknd (real name Abel Tesfaye), are adorbs and she just rang in the big 2-5 in cozy sweats with friends. Following her intimate birthday evening, Selena Gomez played The Weeknd's music, proving that she is ultimate girlfriend goals. Not only did she look gorg, but she was rocking out to her boyfriend's music. Ah, love (and career support) is in the air.
In the video above, Gomez is obviously feeling herself and the song "A Lie" by The Weeknd, French Montana, and Max 8.
According to Daily Mail, Gomez was getting glammed up for a birthday dinner with friends and was later seen with The Weeknd at the Sunset Tower Hotel in West Hollywood on July 24. Night cap, anyone?
On July 22, Gomez celebrated her birthday with friends at home. The Bad Liar singer kept it cozy in grey sweats to blow out the candles. Her kitchen was filled with teal and white balloons, two gorgeous cakes, and a handful of close friends taking pics.
When people saw that The Weeknd was nowhere to be seen, questions started popping up about where he was. Turns out, he was in Paris for Lollapalooza. He posted a picture the evening of July 22 that showed him playing his final show in France to a crowd of fans.
The two are so lovey-dovey, it's very un-Welena (I just made up that couple name, please tell me it's a thing) for them to not be together for a special event.
Selena then posted a video assuring everyone that The Weeknd was on his way. Whew, I almost overreacted.
To top it off, The Weeknd immediately flew from his show in Paris back to Los Angeles for Gomez's birthday. He posted a video that said "on my way to you" which we all assumed was directed at Gomez.
Ugh, we get it, you're perfect. While Gomez is ultimate girlfriend goals, The Weeknd is also an amazing boyfriend. I've got to give it to Gomez, I think 25 is going to be her best year yet.