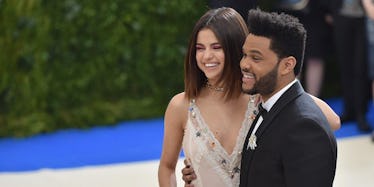 The Weeknd Missed Selena Gomez's Birthday, But He's Making It Up In A Big Way
Theo Wargo/Getty Images For US Weekly
How do you celebrate your quarter-century if you're a celeb? If you're Selena Gomez, you ring in 25 with a quiet, perfectly Instagrammable birthday bash — with teal-and-white balloons, tasty cake, and a comfy sweatshirt (hey, you deserve to be cozy on your birthday). Doing it right.
Except, while she thanked fans, admired the decor and had a good time with her friends on July 22, there seemed to be something missing. But… what was it?
Gomez's boyfriend, The Weeknd (real name Abel Tesfaye) was nowhere to be seen.
So where was he?
In Paris, apparently. He posted an Instagram on Saturday evening showing him playing his final show in France to a crowd of fans. So, in short, not with his girlfriend on her birthday.
The two are not at all shy about their relationship (they were practically joined at the hip, not to mention lip, at Coachella), so it's kind of a little weird that they weren't together.
People noticed.
Like, seriously, you guys are usually all up on each other's social media. What gives?
But it's all good, apparently.
In an Instagram live video, Gomez says that The Weeknd is "on his way" (and then her friends made fun of her for being so cutesy about her boyfriend, as all good friends must do).
The Weeknd didn't post any specific birthday message to his lady.
But a few hours after his show he posted an Instagram story saying that he was "on my way," presumably to give her birthday wishes in person.
Between the nine hour time difference and the 12-hour flight between Paris and Los Angeles, where Gomez has a home, that's quite a trip.
Seriously though, these two could not be cuter.
Gomez is notorious for putting adorable videos of the pair on Instagram, they were caught being all IDGAF about PDA at Coachella, and just a few weeks ago The Weeknd got busted going through Gomez's old Instagrams. I mean, how cute can you be? I am here for their enthusiasm. Romance is alive.
What a gift for your 25th birthday!