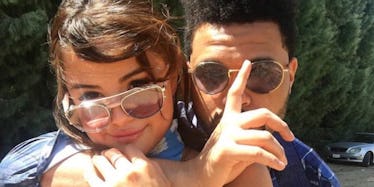 The Weeknd Reunites With Selena Gomez For Her Birthday & It's Adorable – PHOTOS
Instagram
This past Saturday, July 22, Selena Gomez turned 25 years old. Unfortunately, The Weeknd missed Gomez's birthday celebration, but he made it up to her by flying all the way back from Paris to spend time with the "Fetish" singer.
While Gomez was having an intimate hangout with close friends this weekend, The Weeknd was performing in Paris as part of his Starboy tour. But he made it back in time for a nice lil post-birthday lunch with Gomez.
If my boyfriend missed by birthday but flew 11.5 hours just to get lunch to make it up to me, I'd be like, "Ya, we cool."
During an Instagram Live story Gomez did during her birthday party, a fan asked where The Weeknd (real name Abel Tesfaye) was, and she responded, "Abel's on his way home." Her friends gave her sh*t for it right after and it was hilarious.
One of her friends started singing The Weeknd's "I Feel It Coming" in the video.
And then, once he made it back stateside after his performance, The Weeknd posted an Instagram video story of him driving on some random road with "I Feel It Coming" playing with a caption that read, "on my way to you."
So basically he played the song Gomez's friend sang and quoted Gomez, so that's cute, right?
Question, though: Is it normal for singers to just, like, listen to their own music casually? Is that a thing they do? Are we cool with that? Someone let me know if I should be judging this or should just let it go.
Even though The Weeknd wasn't present for her actual birthday party, it looks like Gomez still had an amazing day with her friends.
In an Instagram post, Gomez thanked her friends and fans for being a part of her life. She said,
Thank you for all of my bday love. I couldn't be more blessed. A lot of you don't realize how much you mean to me. I. Love. You. --think 25 is going to be epic. xo
HBD, Selena.