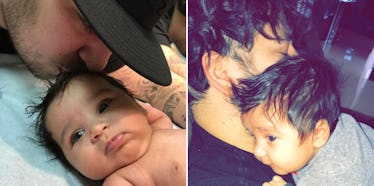 Rob Kardashian Admits He 'Wanted A Boy So Bad' In Instagram Caption
REX/Shutterstock
Rob Kardashian has spent his entire life surrounded by powerful, public women.
When it came time to welcome his first child, he hoped against hope fiancee Blac Chyna would pop out a boy: You know, someone Rob could count on to lay in the cut, talk about socks, escape the spotlight and post Lyft codes to Snapchat with him.
Instead, Chy gave birth to daughter Dream in November and Rob is welcoming his baby girl
The reality star shared a picture of his two-month-old baby girl on Instagram, telling fans she'd just gotten her first shot, adding,
I wanted a boy so bad and now that I got my girl I am so Thankful and Happy for her and wouldn't want it any other way ! She is the best and I love her so much and I thank God every day for her cuz she is the best and she is my best friend :) LOL I love her so much.
He loves her. How much? So much, America. So much.
Dream is the new star of Rob's Insta.
The 28-year-old can't help but share his new best friend with his 8.4 million followers.
Dream seems to be logging quality time with both Rob and Chyna, despite recent strife between the couple.
Followers were stunned when Chyna packed up the baby and the waffles a week before Christmas and left Rob to gloomily Snapchat his empty home.
The pair was briefly reunited, though, when Rob admitted himself to the hospital December 28 following an episode of "medical distress."
Rob and Chy rang in 2017 together, suggesting Dream can look forward to some peaceful time at home with her parents.
Maybe 2017 will be the Rob and Chyna's best year yet.
Citations: Rob Kardashian Confesses He Wanted a Boy, But Calls Daughter Dream His 'Best Friend' (PEOPLE)