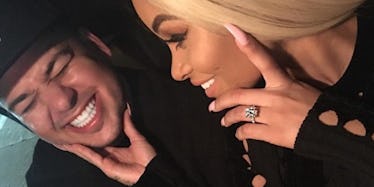 Rob Kardashian And Blac Chyna Are Only 'Separated' Until She Gives Birth
Rumors swirled earlier this week that Blac Chyna and Rob Kardashian may have actually called it quits on their relationship, but it turns out they're actually just "separated" until Chyna gives birth.
I don't know what kind of couple separates themselves with a baby on the way, but this is Rob Kardashian and Blac Chyna we're talking about after all!
According to US Weekly, the engaged couple is still together -- they're just NOT on good terms. As of now, Rob and Chyna are separated to keep the fighting to a minimum while Chyna prepares to introduce their baby to the world.
An insider spoke to the magazine, revealing,
Rob and Chyna are not really broken up, but they are not in a good place right now. Filming the show has been a lot of stress on their relationship. Add to that Chyna's pregnancy and the fact that Rob and his moods go so up and down.
Well, hopefully, they can settle their beef with each other and focus on strengthing their bond. These two have A LOT to look forward to, including their new reality show, their baby and -- eventually -- tying the knot.
The source added,
Rob really loves Chyna.
That's precisely why the Kardashians are "confident that they will get through it and patch things up," according to the same source.
A second source close to the couple came forward with details of their temporary separation, explaining,
They are living separately right now until the baby is born because they don't want the fighting to affect the baby. They think it is a healthier way to live until the baby is born. He is living in Calabasas and she is in Tarzana. It's just temporary and because they are living apart, the fighting has gotten less.
If you've been watching E!'s "Rob & Chyna," it's pretty obvious that these two have a lot of different issues to discuss if they really want to make their relationship work.
While Blac Chyna is busy soaking up her newfound fame and success, Rob Kardashian is looking to get himself back to a healthier lifestyle both mentally and physically.
While equally important, both of their issues seem to be getting in the way of their happiness. Oh, and I'm sure that baby shower drama added PLENTY of fuel to the fire.
After all, Rob was so pissed, he leaked Kylie Jenner's phone number on Twitter.
Let's see where this goes!
Citations: Rob Kardashian and Blac Chyna Are 'Not in a Good Place' — Plus, Baby Shower Fracas Explained (US Magazine)