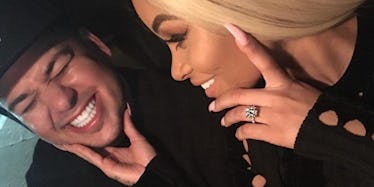 5 Epic Rob Kardashian And Blac Chyna Halloween Costumes To Rock This Year
Instagram
Ah yes, Halloween. A time for celebrities to remind us how creative, rich, and sometimes actually really funny they can be. I'd be a liar if I said all eyes weren't on the Kardashian clan, waiting to catch glimpses of what kinds of costumes the super-celebs put together this year. Beyond the sisters, folks are circling back to brother Rob and ex Chyna to see what they'll dress up as this year, especially since it's their first Halloween with baby Dream. And you guys are lucky, because I'm here to tell you five Rob Kardashian and Blac Chyna Halloween costumes you can totally rock on the cheap to look just like them.
Now, I know what you're thinking: "Hey, Jamie, doesn't Rob only wear, like, one thing?" And the answer is YES. So you can bet your bottom dollar his usual black uniform will be on this list. He's like Doug Funny and only has a closet full of sweat pants and t-shirts, but HE'S JUST DOING HIM, OK?!
Also, think back! You're probably forgetting there were many shades to Rob before he disappeared for, like, three years and then came back hating all colors of the rainbow and proposed to his sister's boyfriend's baby mama.
Here are five ways you can dress up as the star crossed lovers this year.
1. All Black Everything = The Original Rob
Let's get this out of the way.
If you guys remember, not too long ago in a land not so far away, a happier Chyna and Rob celebrated Halloween in a hilarious way. In 2016, Chyna dressed as her then lover, Rob, and it was so, so funny and weirdly accurate.
The model and reality star rocked beard makeup and Rob's signature outfit, a black t-shirt, sweatpants, a baseball hat, and slip-on sandals, AND YOU CAN, TOO!
What you'll need: black shirt, black sweats, black socks, baseball hat, adidas slide flip flops, brown eyeliner for beard
2. Pierce Your Cheeks = OG Chyna
Or, if you're doing this on a budget and don't feel like popping holes into your face, you can just go with straight up rhinestones or sequins.
Though Chyna hasn't been spotted with her smile-bling in more recent months, it's signature enough so everyone should know who you are, unless of course they confuse you for Amanda Bynes circa 2013, which is still kinda awesome.
What you'll need: Bravery and skin that heals quickly or rhinestones and eyelash glue
3. Sleeve Tats + White Tank Top = Vintage Rob
You remember him, you love him. Tank top wearing Rob, for me, is the most authentic Rob I know.
Sure, I never noticed he had his mom's face tattooed on his body, and sure, it makes me feel all kinds of weird. But still, easy peasy Halloween costume that will have everyone saying, "Hey, Rob! Are you, like, OK, bro?"
What you'll need: White tank top, a sharpie, a friend with a really steady hand and good eye
4. Wigs, Wigs, Wigs = Chyna, Chyna, Chyna
If there's one thing we can count on with Chyna, it's that she will consistently deliver us fierce, trendy, new wigs – even in the midst of adversity.
You've seen her with every color of the rainbow and almost any length and style. Pic your favorite and glow, baby, glow.
What you'll need: Oh, uh, a wig
5 . Sweats + Hats + Grumpy Attitude = Fighting Rob and Chyna
This is a couple's costume, and the key here is grumpy attitude. Another trick here is to channel your inner college freshmen girl from 2008 (aka, sweats, flops, hat, hangover, sh*t attitude) and you've nailed it. Consider yourself Rob and Chyna. They ran wild with this look in 2016, making Halloween 2017 the perfect time to rock it as a costume.
What you'll need: Again with the sweatpants, all black, and a beanie or baseball cap depending on if you're Rob or Chyna
And there ya have it. Fool proof.
If these two don't dress Dream up as the sleeping emoji for Halloween this year, they are literally dead to me.
Happy haunting!