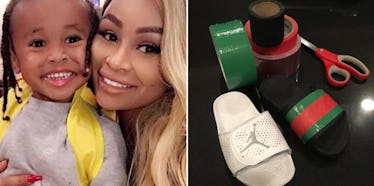 Blac Chyna And King Cairo Dressed Up As Rob Kardashian For Halloween
Instagram
Blac Chyna is surprisingly hilarious in this series of Halloween Snapchats.
I'm going to be honest, I'm pretty unsure how I feel about Angela.
On the one hand, I think she's a brilliant opportunist who saw a chance to sneak her way into the Kardashian family through Rob's seed. On the other hand, I genuinely think she loves him and has been a godsend to his life.
However, one thing that is abundantly clear is she is a walking powder keg who will lose her shit at the drop of a hat.
With that being said, it's interesting she decided to poke a little fun at her temperament by posting a series of surprisingly funny Snapchats this Halloween.
It all started when her son, King Cairo, decided to dress up as Rob Kardashian for Halloween.
It's absolutely adorable.
Granted, it's a little weird because King's father is currently dating Rob's half-sister, but it's still insanely cute.
I am sort of curious how Tyga feels about all of this, though.
Blac Chyna even figured out how to make a pair of toddler-sized Gucci Slides to complete the ensemble.
Apparently, all it takes is some colored tape. It's that simple!
It didn't stop there, though.
When Chyna asked King what her costume should be, he immediately responded he wanted this outfit to be a family theme.
So, Chy donned an equally impressive Rob K outfit and proceeded to film a bunch of sketch-comedy videos making fun of Rob and herself.
By the way, if you're interested in making your own Rob Kardashian outfit, I have your back.
Here is what you need:
That's it. That's all you need. I've watched this family for years and I'm pretty sure that's all he has in his closet.