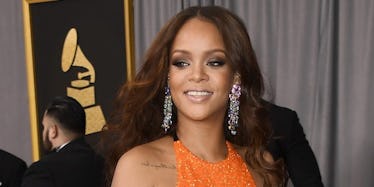 Rihanna And Her Rumored Boyfriend Look So In Love In New Pics
Frazer Harrison/Getty Images
Twitter's new favorite couple ever is Rihanna and Hassan Jameel, who were seen getting coffee yesterday looking so freakin' smitten.
I don't care if this is the most simple/non-impressive thing a couple could do, they are literally the cutest people on the planet because of it.
Yesterday we learned the identity of the mystery man Rihanna was seen making out with in a pool earlier this week. His name is Hassan Jameel, and his family owns the rights to the Toyota fortune, aka he is the heir of Toyota.
Here they are getting their coffee, minding their own business, being in love and what not.
SO SIMPLE, YET SO IMPORTANT.
Jameel's family is worth about $1.5 billion, according to Forbes Middle East, which means if he and Rihanna are the real deal, they could knock Beyoncé and JAY-Z out of the number one slot for highest-grossing celebrity couple. (Bey and JAY are worth about $1 billion.)
A source close to Rihanna told the Daily Mail she's completely head over heals for Jameel. They said,
This relationship is the real deal. Rihanna has told friends she's in love with him and seems completely smitten. They've been spending a lot of time together away from prying eyes and are really serious. They're really enjoying each others' company.
But now, we've also learned the truth behind why Rihanna and supermodel Naomi Campbell unfollowed each other on social media...
Hassan Jameel is Naomi Campbell's ex. DUN, DUN, DUNNNNN!!!
Yup, Andy Cohen asked Campbell about the possible beef a while back on Watch What Happens Live, and Campbell responded by saying there wasn't any beef between her and the singer whatsoever! But then... she followed up that statement with a swift, "I'm an actress now, Andy."
Hahahahahaha, OK. Got it.
There is definitely beef. Cool, cool, cool, cool, cool.
Hey, at least the Rihanna/Lupita Nyong'o's heist movie is still happening.