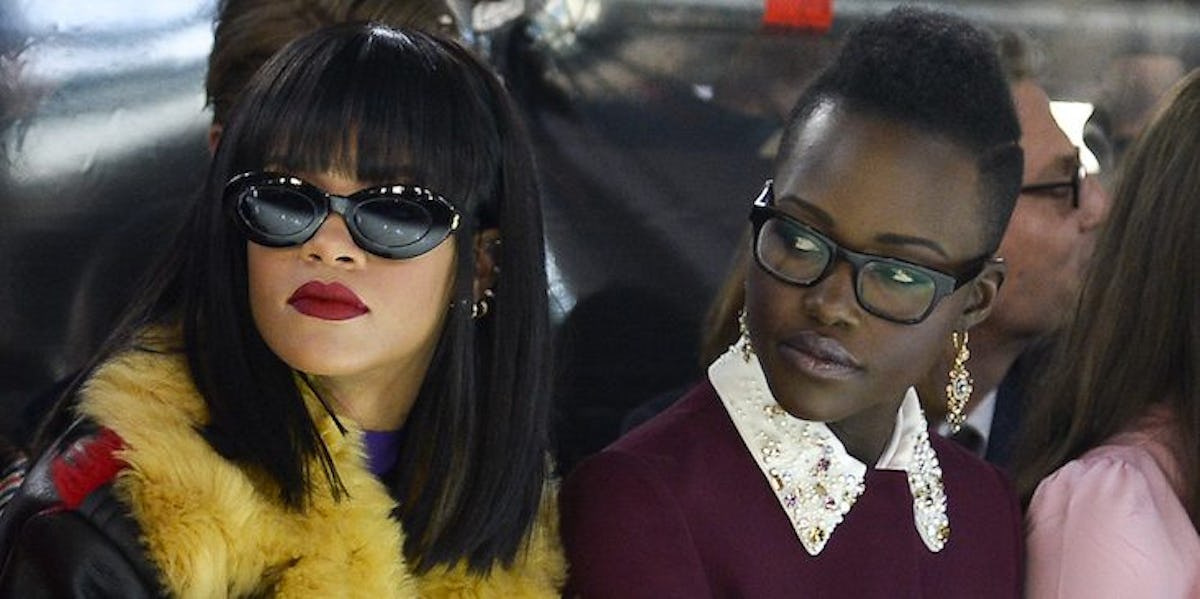 Rihanna And Lupita Nyong'o's Heist Movie Is Actually Happening, Thanks To Twitter
Getty
One month ago, Twitter and Tumblr users were teased with the greatest movie concept of all time, and now it's actually being made!
Entertainment Weekly confirmed Netflix has picked up a movie starring Rihanna and Lupita Nyong'o, directed by Ava DuVernay, and written by Issa Rae. The idea for this dream-team movie actually unfolded on social media last month, as each of the women expressed their interest in bringing a viral meme to life on the big screen.
A couple of years back, a photo of Rihanna and Lupita Nyong'o looking super cool and stealthy AF at a 2014 fashion show went viral on Tumblr, thanks to one user pitching a movie concept based off the photo in the caption: a heist movie starring Rih as a thief and Lupita as a hacker.
Obviously, the internet was not just going to let this brilliant idea get away, and it started getting a lot of attention on Twitter as well, where Lupita and Rihanna could have a better chance of actually seeing it.
Last month, Lupita responded to a slightly refined version of the movie idea that was about Rihanna scamming white men while Lupita helped make the plans using her knowledge of technology. Lupita said she was down to make it if Rihanna was, and Rih responded that she's in too.
But what's a movie without a director? Twitter's next mission was to secure the only director that would do the job justice: Ava DuVernay!
You might remember a few years back how Ava showed her full support of the viral sensation the Zola story, a tale of strippers taking a road trip that goes horribly wrong that took over Twitter in 2015. Sadly, nothing has come from her interest in that Twitter sensation, but this time Ava is officially signed on to direct Rihanna and Lupita in the new Netflix film, which she expressed interest in after Rihanna and Lupita's tweets.
And finally, who better to write the screenplay than Issa Rae, the hilarious voice behind the HBO series Insecure and her buzzy web series The Mis-Adventures of Awkward Black Girl. When Twitter users begged Issa to join the flick, she responded with a GIF of a cat furiously typing on a laptop, and now she's signed on as a writer for the new movie.
As far as specifics go, all we really know is that these four women will be running the show for the project, and will go into production next year. Though Issa Rae's reps have said the original social media users who helped form the concept of the movie will be given credit, we still don't know how much of the plot will be taken from the Twitter and Tumblr posts.
Will it really be about Rihanna scamming white men with Lupita being the brains of the operation by her side? Or will they go bigger scale with a massive heist movie with Rihanna as a burglar and Lupita as a genius hacker? Rih will already have some heist practice given that she's starring in the upcoming Ocean's Eight.
Lupita has already shared some ideas of what the new film might look like by posting some fan-made concept art to her Instagram. She's been calling the movie Cashing In, but no official title has been announced yet.
And now that Twitter users have seen the true power of their pleas, some of them are pitching more ideas for the new movie. One user is hoping that Zendaya and Black-ish star Yara Shahidi will take on roles as Rihanna and Lupita's young protégé's in the flick.
I'm very here for that, and I'm very here for all of this! Thank God Twitter is finally giving us something amazing!
Citations: Rihanna and Lupita Nyong'o will costar in a buddy movie directed by Ava DuVernay for Netflix (Entertainment Weekly)